!-James Abbott McNeill Whistler. 1834-1903-->


James Abbott McNeill Whistler. 1834-1903.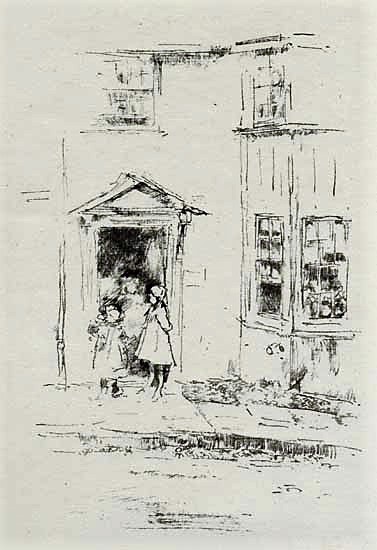 Litle Doorway, Lyme Regis. 1895. Lithograph. Way 83, Levy 122, Tedeschi, Stratis and Spink 119. 9 x 6 (sheet 13 1/2 x 9 3/4). Edition of 15 lifetime impressions recorded Way (Goulding printed 30 posthumous impressions in 1904, after which the stone was erased). Printed on cream laid paper with a Strasbourg Lily/LVG with a IV watermark (Chicago 289), indicating a posthumous impression. Collector's seal, verso: Rosalind Birnie-Philip, Whistler's sister-in-law, Lugt 405. Signed with the butterfly in the stone. $3,750.
n the late summer of 1895, Whistler and his wife visited the seaside resort of Lyme Regis in Dorset. During their stay, Whistler drew 7 images on lithographic transfer paper, and sent them to his printer, Thomas Way, in London. This image was included in The Fine Art Society's exhibition of Whistler's lithographs in 1895-96.
Rosalind Birnie-Philip, Beatrice's younger sister, cared for Whistler after her sister's death, and became the sole executrix of his estate. Whistler designed her collector's seal.


To order or to request additional or to be placed on the email list, contact Jane Allinson (jane@allinsongallery.com) or call (860) 429 2322.
Please click here to review the >USE AND ACCEPTANCE AND PRIVACY POLICIES FOR THE ALLINSON GALLERY, INC. WEBSITE