!-James Abbott McNeill Whistler. 1834-1903-->


James Abbott McNeill Whistler. 1834-1903.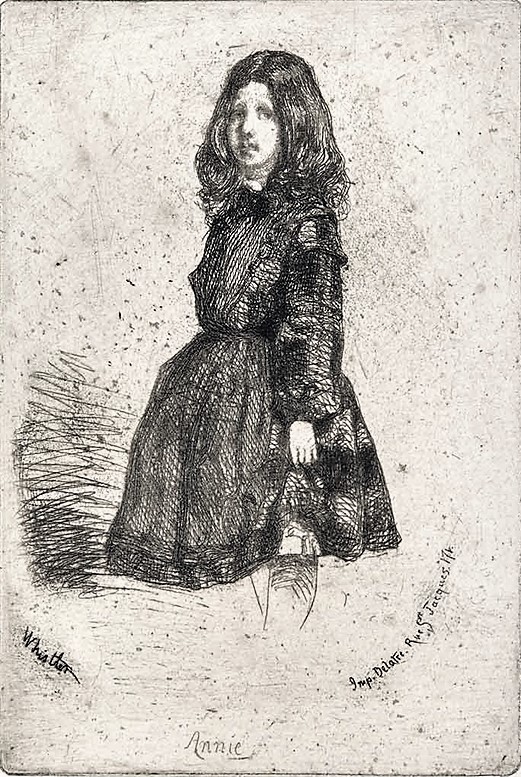 Annie. 1857-58. Etching. Kennedy 10.v; Glasgow 7.vii. 4 5/8 x 3 1/8 (sheet 7 5/8 x 5 3/8). Glasgow records 53 impressions in museums. Series: Douze Eaux-Fortes d'après Nature (French set). Illustrated: Guichard, British Etchers, 1850-1940. A rich impression with tonal wiping, printed on off-white laid paper with full marginsand a partial '6' countermark. Signed 'Whistler' lower left, titled 'Annie', center, and annotated 'Imp. Delâtre Rue St. Jacques. 171' in the plate lower right. $1,750.

Ann Harriet Haden, known as Annie (Born 1848) was the eldest daughter of Whistler's half-sister, Deborah and the famous etcher, Sir Francis Seymour Haden 1818-1910). At the time of this etching, she would have been about 9 years old. Her older brother, Francis Seymour Haden Jr., is the subject of another Whistler etching: Seymour Standing Under a Tree (Kennedy 31, Glasgow 9).
It was actually Haden who sketched the few lines outlining the lower legs on the plate as he did not approve of the way Whistler had finished the figure at the knees. After he fell out with Haden, Whistler annotated an impression of this print: "Legs not by me, but a fatuous addition by a general practitioner."

Please click on the link to the Glasgow online catalogue raisonné Annie.

To order or to request additional insormation, contact Jane Allinson (jane@allinsongallery.com) or call (860) 429 2322.
Please click here to review the >USE AND ACCEPTANCE AND PRIVACY POLICIES FOR THE ALLINSON GALLERY, INC. WEBSITE