John William Evans. American. Born 1855.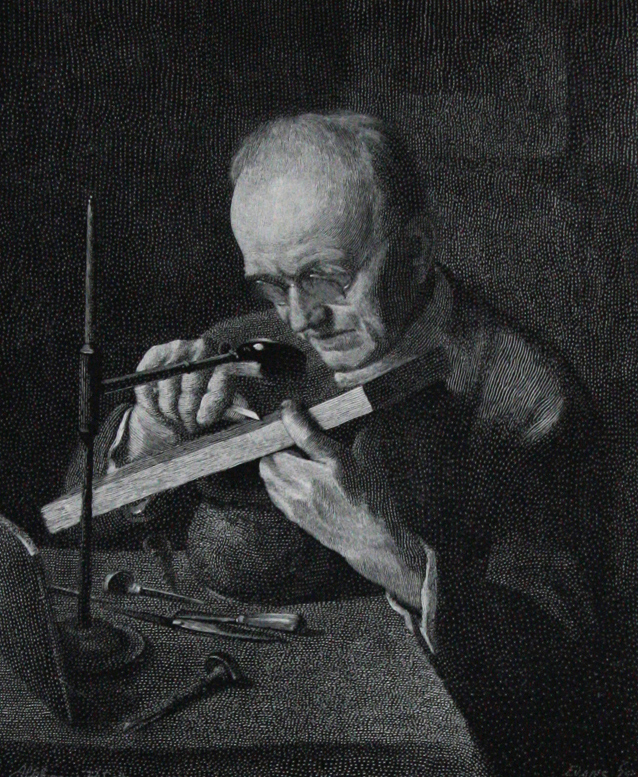 Timothy Cole Engraving a Woodblock. 1935. Wood engraving after Alphaeus Philemon Cole (1876-1988). 6 3/16 x 5 (sheet 12 x 9). A rich impression printed on cream wove paper. Signed in pencil by Alphaeus P. Cole, signed and dated by John W. Evans. $500.

Timothy Cole (1852-1931) was an American wood engraver. Born in London, England, his family emigrated to the United States in 1858. He established himself in Chicago, where in the great fire of 1871 he lost everything he possessed. In 1875 he moved to New York, finding work on the Century (then Scribners) magazine. He immediately attracted attention by his unusual facility and his sympathetic interpretation of illustrations and pictures, and his publishers sent him abroad in 1883 to engrave a set of blocks after the old masters in the European galleries. These achieved for him a brilliant success. His reproductions of Italian, Dutch, Flemish and English pictures were published in book form with appreciative notes by the engraver himself.
Though the advent of new mechanical processes had rendered wood engraving almost a lost art and left practically no demand for the work of such craftsmen, Mr Cole was thus enabled to continue his work, and became one of the foremost contemporary masters of wood engraving. He received a medal of the first class at the Paris Exhibition of 1900, and the only grand prize given for wood engraving at the Louisiana Purchase Exposition at St Louis, Missouri, in 1904. His son, Alphaeus Philemon Cole, was a noted portraitist .

An excellent new reference book is by William H. Brandt, Interpretive Wood-Engraving. The Story of the Society of American Wood-Engravers. Hardcover with dust jacket, 204 pages, $85. Publisher: Oak Knoll Press, Delaware. Phone: 800-996-2556.
To order or to be placed on the email list, please contact Jane Allinson (jane@allinsongallery.com) or send a fax to (860) 429 2825.