!-James McBey. 1883-1959-->


James McBey. 1883-1959.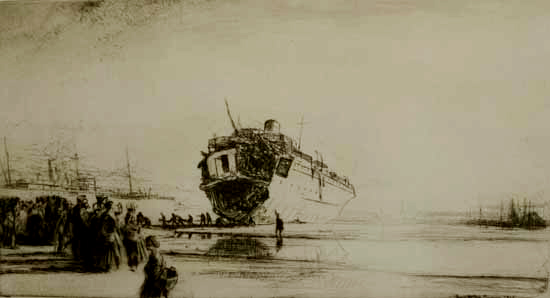 The Sussex. 1916. Etching. Hardie 171. 8 3/16 x 15 1/8 (sheet 9 3/4 x 16 3/16). Edition 76. Illustrated: Lumsden, The Art of Etching; Illustrated: Salaman,Modern Masters of Etching. A rich impression printed on antique laid paper. Signed and numbered in ink. $950.
On March 24, 1916, a German submarine in the English Channel attacked what it thought was a minelaying ship. It was actually a French passenger steamer called 'The Sussex' and, although it didn't sink and limped into port, fifty people were killed.
Hardie writes, "The Sussex, with a gaping, ragged hollow where her bow has been blown off, lies high and dry on the wet sands between Boulogne and Le Portel. In front of the wreck, a French soldier stands as sentinel' and in the shadow of the hull onthe left a sad procession is bearing out the dead. To the left, a crowd of fisher folk, and in front, a single fisher girl with a basket."

To order, for more information or to be placed on the email list, please contact Jane Allinson (jane@allinsongallery.com).