!-James McBey. 1883-1959-->


James McBey. 1883-1959.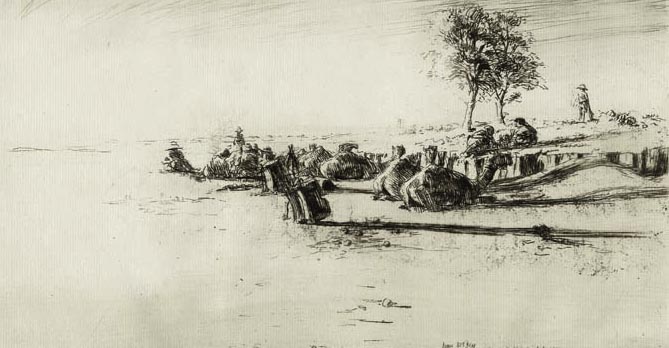 Sunset: Wadi-Um-Mukhsheib. 1919. Etching. Hardie 185. 7 x 13 (sheet 8 1/8 x 14 1/14). Edition 76, # A4 (American edition). Series: First Palestine Set. Mat line, well outside the image; otherwise in excellent condition. A rich impression with plate tone printed on antique laid paper. Signed and numbered in ink. $600.
Hardie writes, "The Camel Patrol has halted for the night; its caravanserai the bed of a wadi (dry watercourse). The camels, unsaddled, are resting on the sand; men are preparing the evening meal; and a sentinel has mounted guard on a ridge to the right of two trees."


To order, to report broken links or to be placed on the email list, please contact Jane Allinson (jane@allinsongallery.com), call (001) 860 429 2322 or fax (001) 860 429 2825. Business hours are 9:A.M. to 5 P.M. Eastern Standard Time.
Please click here to review the USE AND ACCEPTANCE AND PRIVACY POLICIES FOR THE ALLINSON GALLERY, INC. WEBSITE
Thank you for visiting this website.