!-James McBey. 1883-1959-->


James McBey. 1883-1959.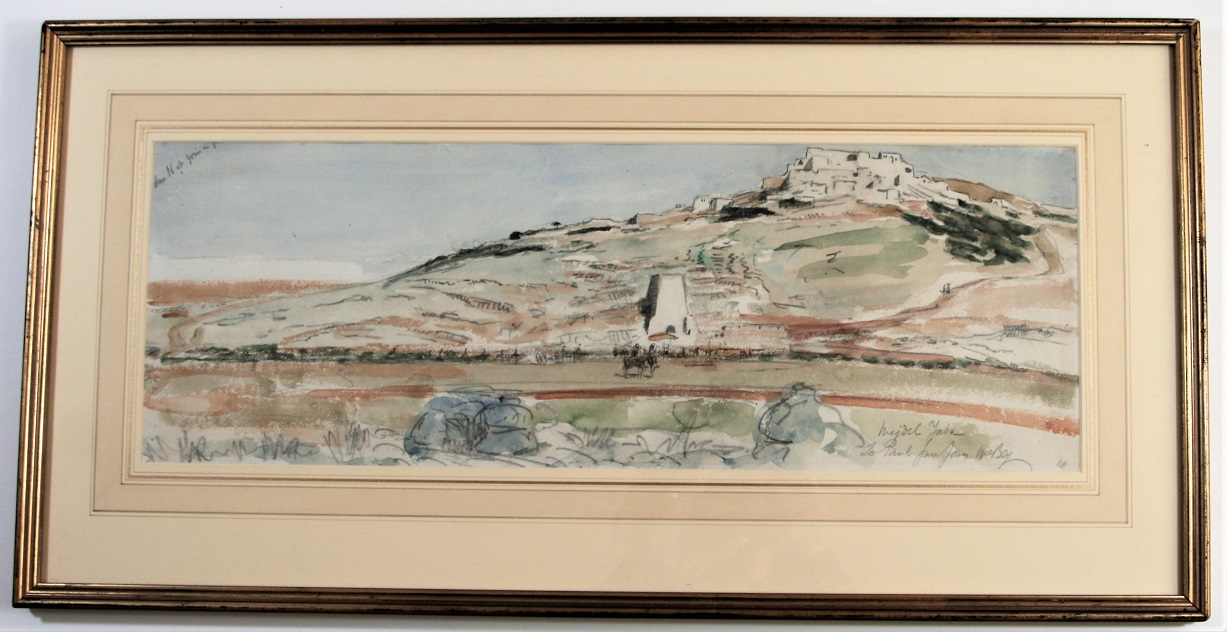 Mejdel Yaba. 20 September, 1918 Pencil, ink and watercolour on paper. 8 1/8 x 22. Provenance: The Fine Art Society. Annotated, upper left, "due N at ???' Dated on the ink drawing on the verso. Signed and dedicated on the front "To Paul from James McBey." Housed in an elegant French mat and an elegant 14 x 27 1/2-inch gold leaf frame with blue/grey highlights. $2,500.

The Battle of Megiddo was fought from 19 to 25 September 1918. It was the climactic battle of the Sinai and Palestine campaign of World War One (1914-18). German and Ottoman forces under the command of Otto Liman von Sanders and Mustafa Kemal found themselves encircled by Entente (British Empire, French, and Hejaz Arab) forces under General Edmund Allenby.

General Allenby's Report on Fighting at Megiddo, 20 September 1918:
Our left wing, having swung around to the east, had reached the line of Bidieh, Baka, and Messudiyeh Junction, and was astride the rail and roads converging at Nabulus.
Our right wing, advancing through difficult country against considerable resistance, had reached the line of Khan-Jibeit, one and one-fourth miles northeast of El-Mugheir and Es-Sawieh, and was facing north astride the Jerusalem-Nabulus road.
On the north our cavalry, traversing the Field of Armageddon, had occupied Nazareth, Afule, and Beisan, and were collecting the disorganized masses of enemy troops and transport as they arrived from the south. All avenues of escape open to the enemy, except the fords across the Jordan between Beisan and Jisr-ed-Dameer were thus closed.
East of the Jordan Arab forces of the King of the Hejaz had effected numerous demolitions on the railways radiating from Deraa, several important bridges, including one in the Yurmak Valley, having been destroyed. Very severe losses have been inflicted on the masses of Turkish troops retreating over the difficult roads by our air services.
A German airplane, later ascertained to have been carrying mails, landed in the midst of our troops at Afule. The pilot, who believed the place still to be in Turkish hands, destroyed the machine and its contents before he could be secured.
Source: Source Records of the Great War, Vol. VI, ed. Charles F. Horne, National Alumni 1923 :
A full account of the campaign can be found in: Allenby's Final Triumph by W. T. Massey, OFFICIAL CORRESPONDENT OF THE LONDON NEWSPAPERS WITH THE EGYPTIAN EXPEDITIONARY FORCE, online at: Allenby' Final Triumph.

To order, to report broken links or to be placed on the email list, please contact Jane Allinson (jane@allinsongallery.com), call (001) 860 429 2322 or fax (001) 860 429 2825. Business hours are 9:A.M. to 5 P.M. Eastern Standard Time.
Please click here to review the USE AND ACCEPTANCE AND PRIVACY POLICIES FOR THE ALLINSON GALLERY, INC. WEBSITE
Thank you for visiting this website.