!-Eric Gill. 1882-1940-->

Eric Gill, R.E. 1882-1940.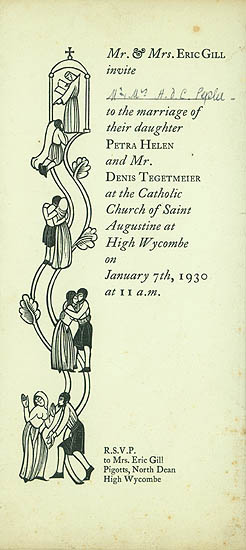 Man and Girl on Way to Church. 1927. Wood engraving. Physick 427. 7 x 1 1/8 (sheet 8 7/8 x 4). Used as a wedding invitation for Petra Gill and Denis Tegetmeier; January 7, 1930. This invitation is addressed to 'Mr. and Mrs. H.D.C. Pepler'. This image was used in Troilus and Criseyde, and is extremely scarce as an invitation. Printed on cream laid 'MADE IN ENGLAND' watermarked paper with two sides deckle edges. Slight foxing around the edge of the invitation, well outside the image and text. Unsigned. $1,000.

To order or to be placed on the email list, please contact Jane Allinson (jane@allinsongallery.com).