!-Anders Zorn. 1860-1920-->


Anders Zorn. 1860-1920.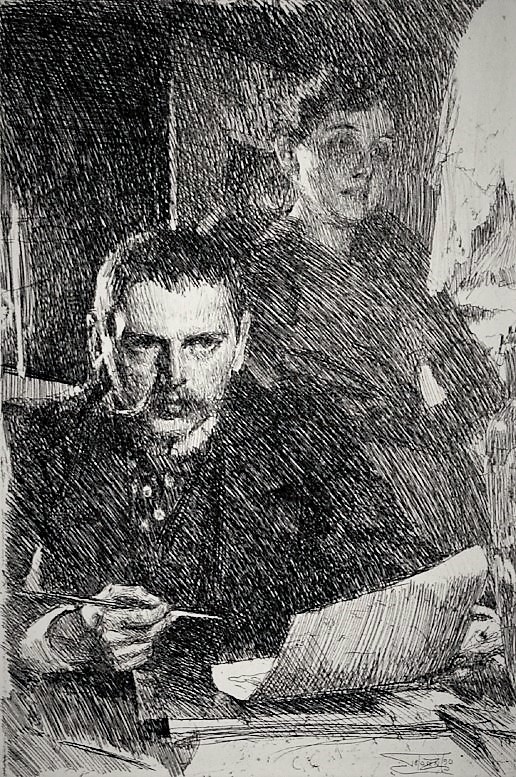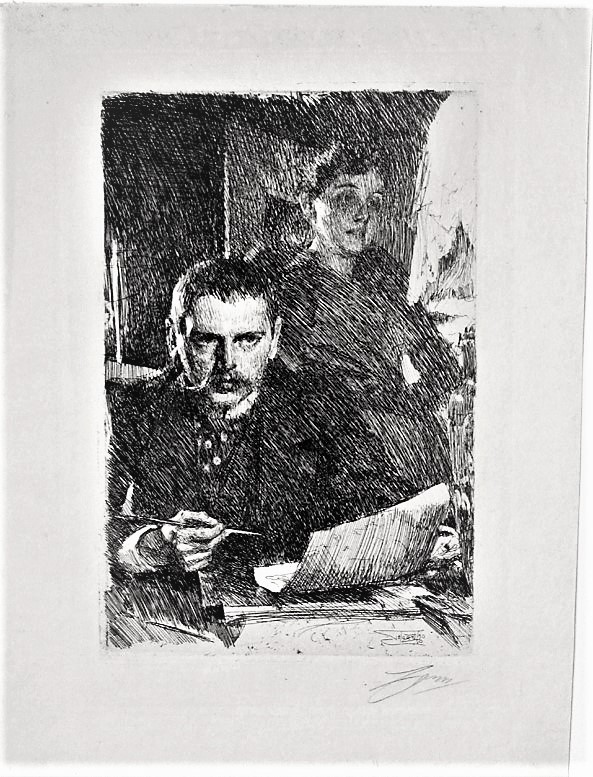 Zorn and His Wife. 1890. Etching. Hjert and Hjert 31.ii. 12 1/2 x 8 3/8 (sheet 23 1/2 x 18). Edition 40-50. A fine impression on simili-Japan paper. Signed in pencil. $9,500.
Zorn's wife, Emma Lamm, came from a rich family in Stockholm, interested in art and culture. Her Jewish ancestors were among the first to settle in Sweden in the 1770's when Jews were allowed to live there. Emma Lamm's family liked the charming young man but he and Emma understood that without money of his own a marriage was out of the question.
In August 1881, Zorn went abroad to study and to try to earn enough money to support a family. The coming four years were spent mostly in England and Spain, but during the summers he was always at home, in Mora and in Dalarö where the Lamm family rented a summerhouse. During these years his style matured. His technique became more sure and his way of handling water colours became bolder. He began to study the appearance of water, how its surface fluctuated and reflected.
In the autumn of 1885, Anders Zorn and Emma Lamm married. The following eleven years were mostly spent abroad, first in England, later in Paris, but they always came back to Sweden during the summers.
The first years of their marriage were highly stimulating for Zorn's painting. Emma Zorn's encouragement and critical analysis of his work played a decisive role in his artistic growth. It was during these years that his ability as an aquarelist reached its peak.
To order, to report broken links or to be placed on the email list, please contact Jane Allinson (jane@allinsongallery.com), call (001) 860 429 2322 or fax (001) 860 429 2825. Business hours are 9:A.M. to 5 P.M. Eastern Standard Time.
Please click here to review the USE AND ACCEPTANCE AND PRIVACY POLICIES FOR THE ALLINSON GALLERY, INC. WEBSITE
Thank you for visiting this website.