!-James Abbott McNeill Whistler. 1834-1903-->


James Abbott McNeill Whistler. 1834-1903.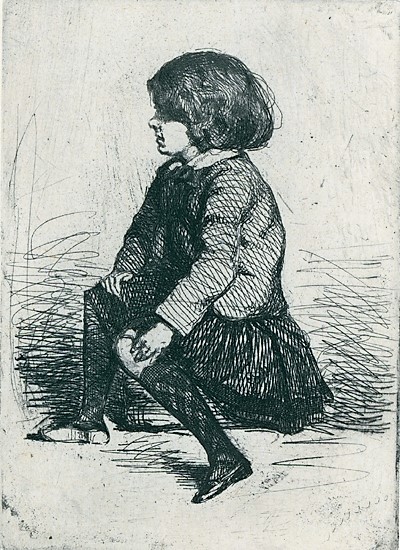 Seymour Haden Jr, Seated. 1857-58. Etching. Kennedy 29.ii; Glasgow 9.iii. 5 5/16 x 3 3/4 (sheet 11 7/8 x 7 3/8). Glasgow records only 23 known impressions. A rich, tonal impression printed on cream laid paper with wide margins. Arthur Charles Haden, Whistler's nephew, would have been around six years old at the time this portrait was made. Unsigned. $2,500.
According to the definitive Glagow catalog raisonné:
Seymour Haden, Jr, Seated probably dates from 1858. It was drawn when Whistler was visiting Deborah Delano Haden (1825-1908), and Francis Seymour Haden, Sr (1818-1910), in London. Seymour was five when Whistler arrived in London in 1855; judging by his dress, this portrait shows Seymour two or three years later, possibly aged seven or eight. It may have been drawn between February and March 1858, when Whistler was convalescing with the Hadens in London. The copper plate is almost exactly the same size as another family portrait, Little Arthur (Glasgow 8), which may be of the same date. It is clear from the sequence of etchings in the early catalogues of Whistler's etchings that Mansfield considered it an early work, while Thomas, Wedmore and Kennedy implied that it was of a slightly later date.

Please click on the link to the Glasgow online catalogue raisonné Seymour Haden Jr, Seated.

To order, to request additional or to be placed on the email list, please contact Jane Allinson (jane@allinsongallery.com).