!-Jacques James Joseph Tissot. 1836-1902-->


Jacques James Joseph Tissot. 1836-1902.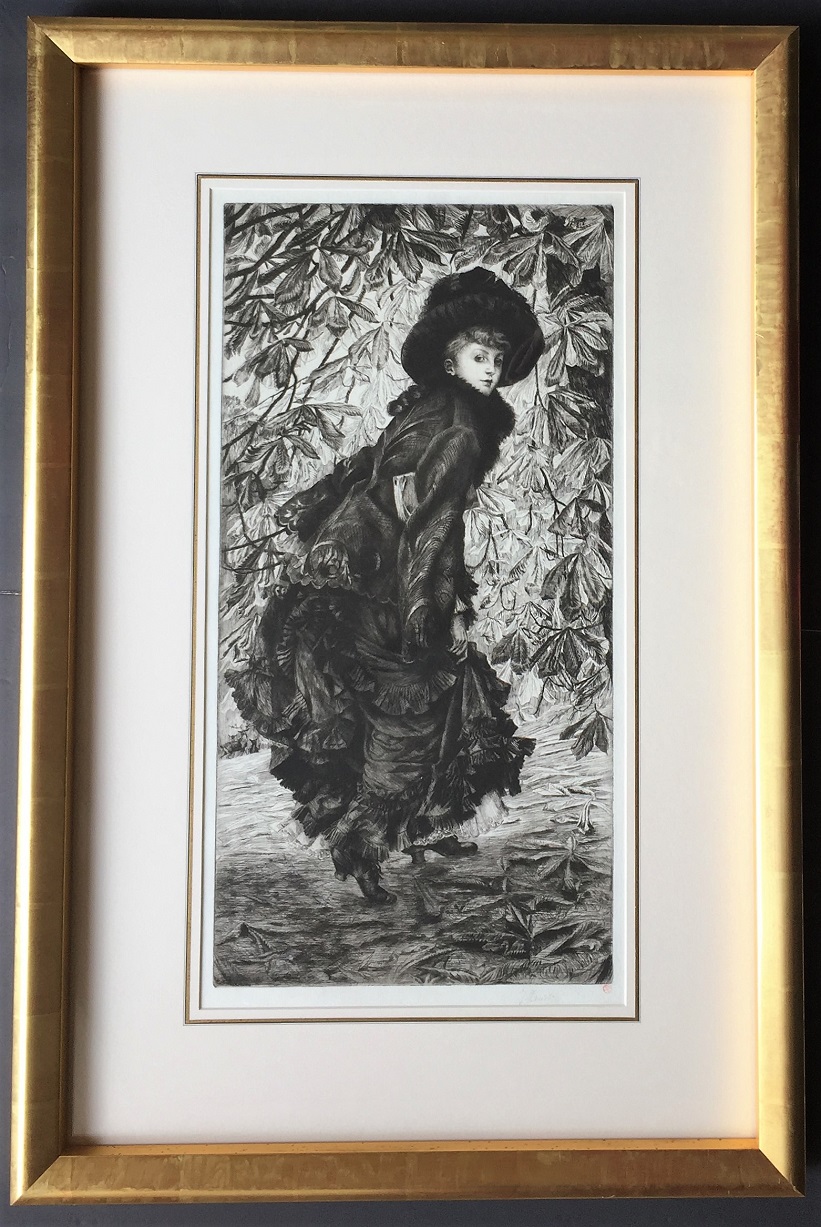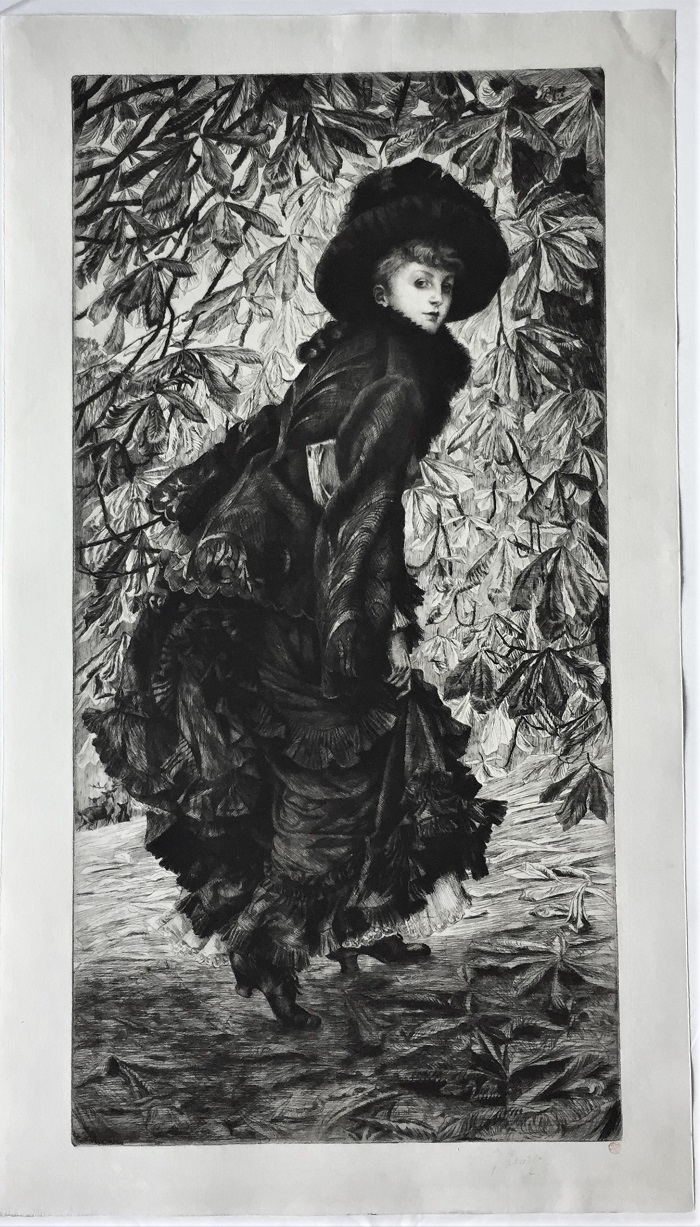 Octobre. (October). 1878. Etching and drypoint. Tissot 29; Béraldi 26 (as L'automne, ou, Octobre) ; Wentworth 33. 21 1/2 x 11. Edition of approximately 100. Illustrated: Keppel, The Golden Age of Engraving,, p.77. A brilliant, richly-inked impression with strong contrasts and deep black, velvety burr throughout, printed on cream laid paper, printed on cream laid paper with full margins. Signed in pencil, lower right. With the artist's red monogram ink stamp (Lugt 1545, lower right recto). Housed in an archival French mat and a stunning 31 1/4 x 21 1/4 x 1 1/2-inch gold leaf frame. $30,000.

Kathleen Newton is wearing an elegant black and silver coat, and very daring high heels. Her display of shoes and petticoats would have been considered erotic at the time. Tissot made three paintings and three prints of her in this fashionable garment. According to Wentworth, "Silhouetted against a background of chentnut leaves, Mrs. Newton assumes the fashionable 'Grecian bend' of the seventies, while at the same time the decorative outline of the full-length portrait seems to echo the single-figure format of Japanese Ukiyo-e painting of the Kaigetsudo school of the early eithteenth century" (page 150).
In James Tissot: Victorian Life/Modern Love, Marshall and Warner write, Here Tissot demonstrates his ability to create an etching in which black dominates yet does not obscure the nuances of modeling. Surrounding the woman in a delicate all-over pattern is his trademark horse-chestnut foliage, and she walks on a ground strewn with leaves fallen from above. To the left in the distance a herd of deer stand at attention, the large antlers of a stag pinpointing the season."


To order, to report broken links or to be placed on the email list, please contact Jane Allinson (jane@allinsongallery.com), call (001) 860 429 2322 or fax (001) 860 429 2825. Business hours are 9:A.M. to 5 P.M. Eastern Standard Time.
Please click here to review the USE AND ACCEPTANCE AND PRIVACY POLICIES FOR THE ALLINSON GALLERY, INC. WEBSITE
Thank you for visiting this website.