Diana Thorne. 1895-1963.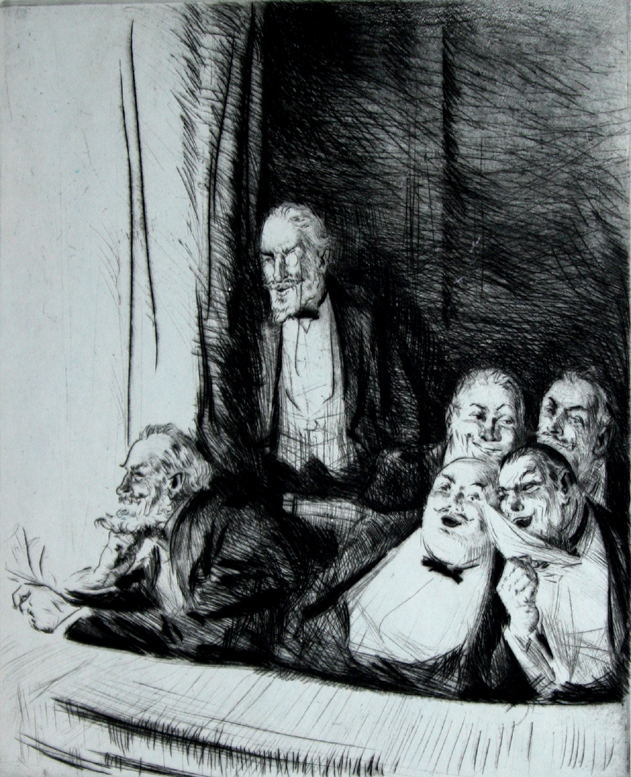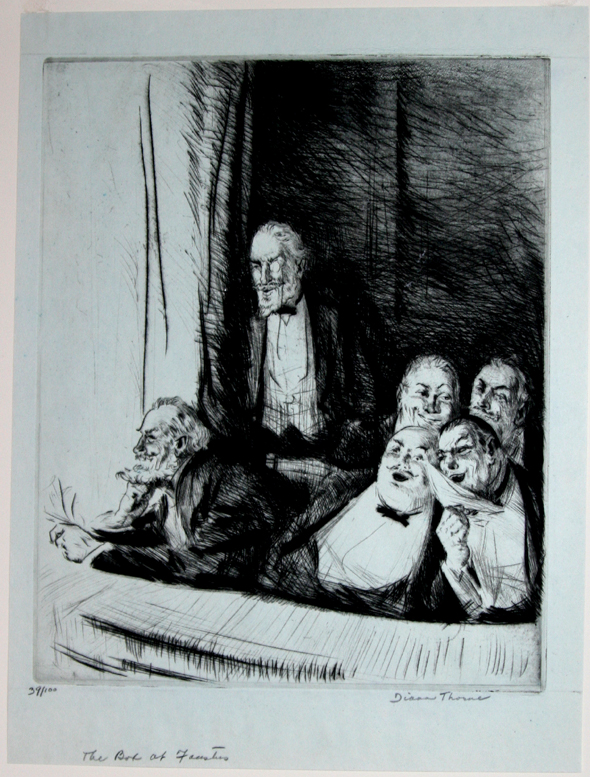 The Box at 'Faustus'. 1929. Drypoint. 11 x 8 7/8. Edition 100, #39. Signed, titled and numbered in pencil. A rich impression printed on the full sheet of pale blue/green-toned wove paper. Signed in pencil. A tongue-in-cheek image of the devil in the opera box, lower right. $300.

Diana Thorne was born Ann Woursell on October 7, 1895 in Odessa, Russia. (Some evidence indicates that she may have actually been born in 1894.) In her youth, Thorne spent time in Winnipeg, Canada and later on a farm in Calgary, Canada. She was to eventually become one of America's most recognized canine artists. Thorne began drawing all her favorite four-legged creatures as a young child. She was the oldest child in a Jewish family of four girls and two boys. Her siblings were Abraham, Paula, Judith, Samuel, and Katherine. Thorne's parents were Chaim and Rose Woursell. During this period, Jews in Russia were experiencing severe oppression and physical attacks. The situation seemed hopeless. Canada opened its doors to immigrants fleeing Russia, offering free homestead land in the West. The family left Canada for Germany around 1912 where Thorne took her first formal art studies at the Imperial Academy in Munich and Charlottenburg Technical College in Berlin. The First World War began two years later and Thorne and her family were subsequently detained by the German government. They managed to escape to England, where Thorne was said to have supported herself as a reporter, librarian, writer, bicycle shop owner, and typewriter repair person. At this time she began her first experiments in both illustration and etching and was said to have studied with artist William Strang. On September 27, 1920, Thorne and several of her family members arrived in the United States. Her first published etching, titled "Rollin' Home", was well received in 1926. From this point on, she became an established artist. Thorne began commercial artwork in New York City in 1929. In her private life, she was known as Mrs. Arthur North, claiming to reside at times in Boston, Massachusetts, Philadelphia, Pennsylvania or Connecticut. (The pseudonym Thorne originated from an anagram of the name North.) There is evidence that Arthur North was actually an alias of artist Carton Moore-Park (1877-1956). This ruse allowed Thorne and Moore-Park to present themselves as a married couple, even though Moore-Park was already married. Frequently, biographies of the artist are filled with inaccuracies supplied by Thorne herself, such as referring to her father as a Scotsman or claiming to be Canadian born, which served to conceal the true details of her past. For additional details, please visit Diana Thorne.

To order, to request more information or to be placed on the email list, please contact Jane Allinson (allinson@erthink.net).