!-Robin Tanner. 1904-1988-->


Robin Tanner. 1904-1988.
Twelve Etchings. 1974.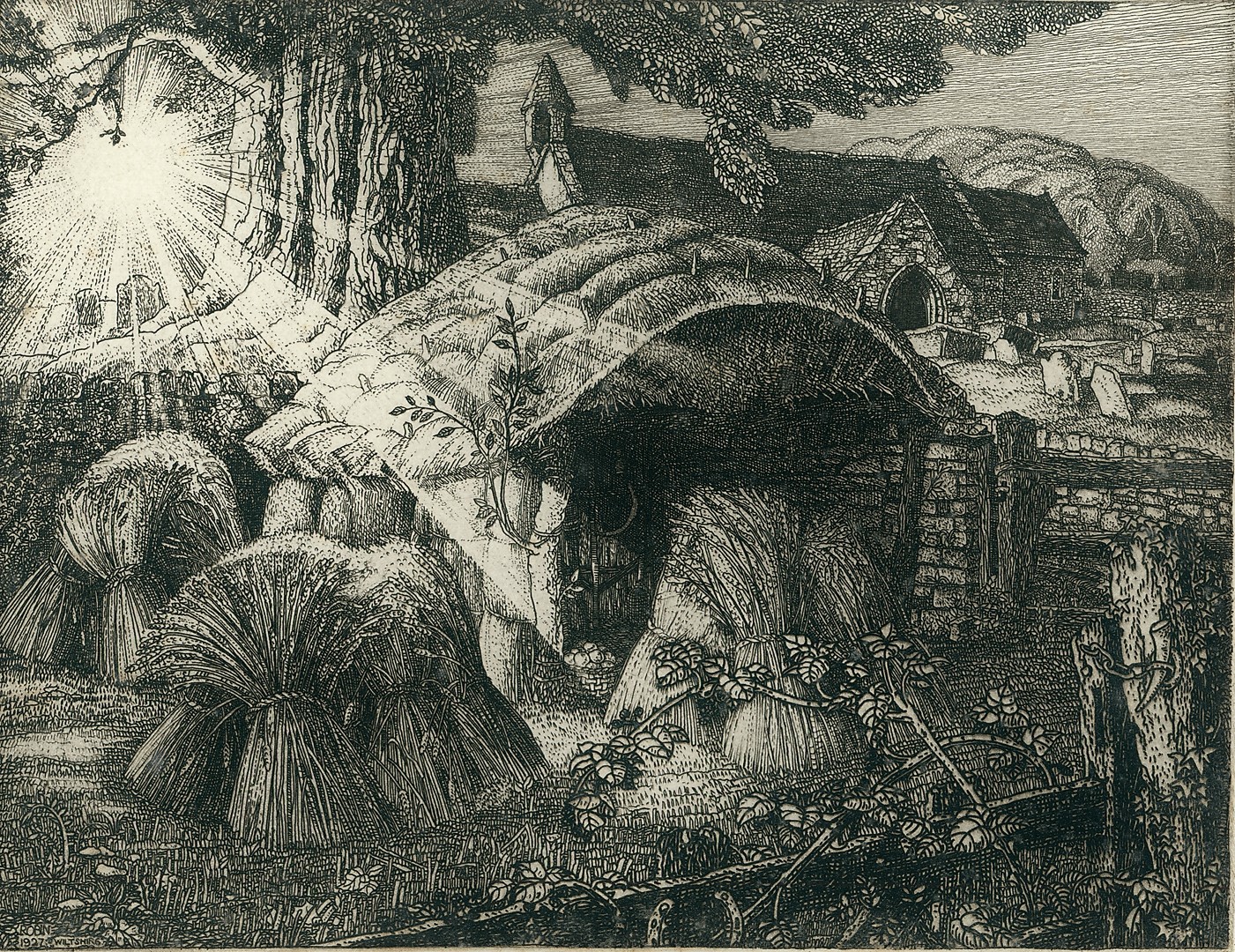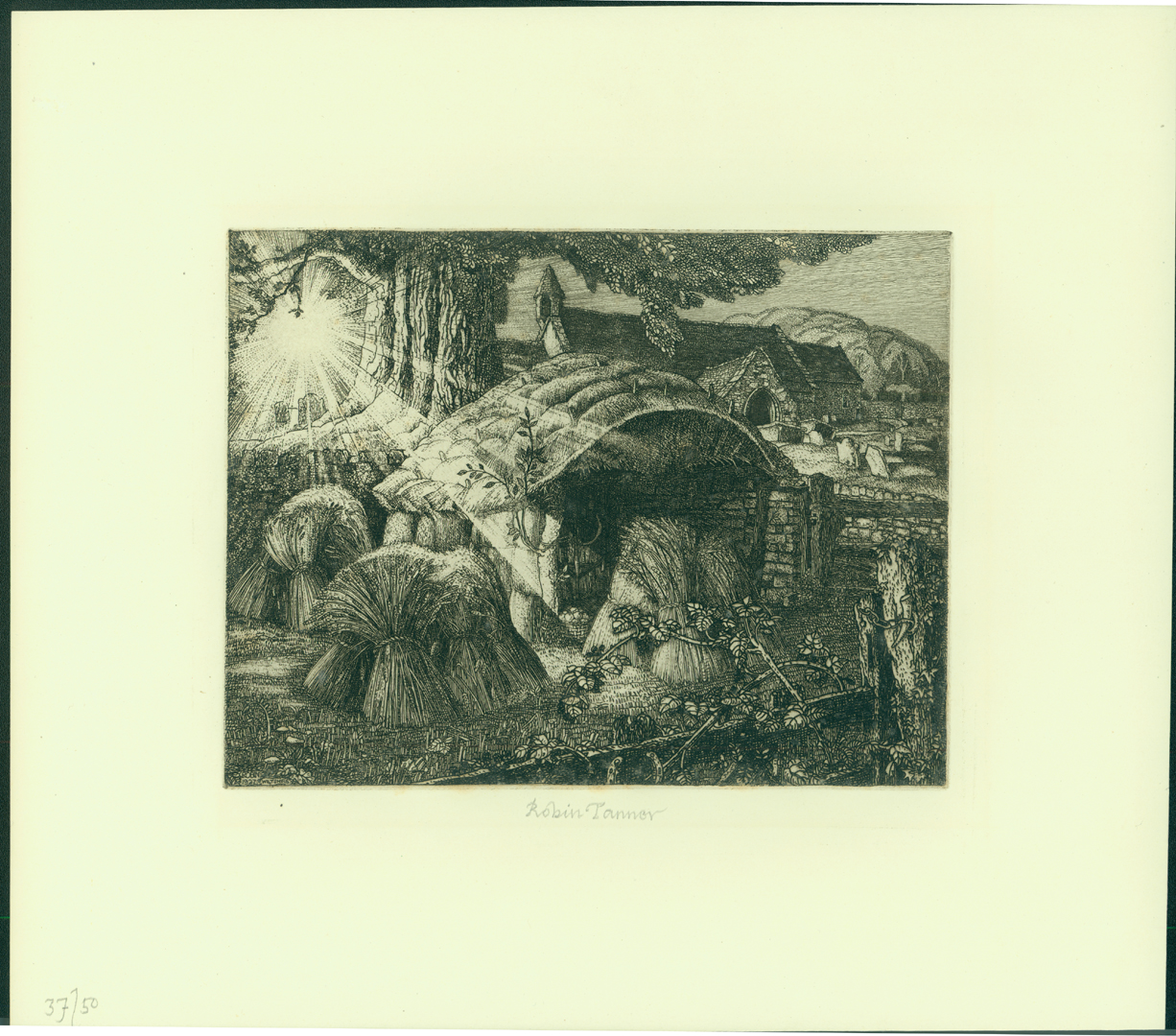 2. Martin's Hovel. 1927. Etching. Garton 3. 6 1/2 x 8 3/8 (sheet 12 x 13 1/2). Edition of 50 published by the Penn Print Room in 1974. (There was an earlier edition of 50 printed by David Strang and published in 1928 by Nicholson. (Edition of 12 published in 1984 by Garton and Cooke. Posthumous Memorial Portfolio edition of 112 unsigned etchings published in 1988 by Robin Garton.) Printed in black ink on H J Head cream wove paper. Signed and numbered 37/50 in pencil. The complete set in its original portfolio case is extremely rare. $19,000 the complete set.
In 1924, while working as a teacher, Tanner began to study etching at Goldsmiths College, University of London. Two years later, he saw Samuel Palmer's prints exhibited at the Victoria and Albert Museum, and soon afterward, he produced Martin's Hovel. Its reverence for pastoral life and use of elements such as thatch, shocks of corn, ancient elms, and transfiguring light are deeply indebted to Palmer. Tanner's teacher, Stanley Anderson, initially criticized the print, calling the setting sun a "blasted searchlight." However, once he learned that Tanner had carefully based the design on studies made in Wiltshire, he supported the plate's progress. The hovel, or midday shelter, had been built by a cattleman in the corner of a farmyard at Allington. The church was adapted from Saint Nicholas's, Biddestone, and the elms were based on some that Tanner saw growing on a wall in Corsham.
The hovel sat in the farmyard depicted in Alington in Wiltshire, and other elements of the design were drawn at St Nicholas's Church, Biddestone and Upper Castle Combe. Robin Tanner recorded that 'It was a still, hot, perfect day, and I worked till the setting sun – all Palmerwise – burst in a great sha( across the hovel in a moment of trans'guration.' The cowman had built his shack to store things and as a place for a midday rest. The composition was conceived in Wiltshire in the summer of 1927, and the artist moved the hovel into a wheatfield with sheaves of corn placed before it.

Robin Tanner was an English artist, etcher and printmaker. He followed in the visionary tradition of Samuel Palmer and English neo-romanticism. His etchings began following night-school classes at Goldsmiths College, London. He had been inspired by the major Samuel Palmer retrospective exhibition organised by Martin Hardie in London in 1926, and his first etching was made in that year. He was particularly moved by Palmer's early Shoreham works which had been so influential on fellow students such as Paul Drury, William Larkins and Graham Sutherland. He also acknowledged his admiration for the technical craftsmanship of the older etcher, F.L. Griggs. Tanner was thus part of the etching revival in England.

To order, to request an image, or to be placed on the email list, please contact Jane Allinson (jane@allinsongallery.com) or send a fax.