!-frank short. 1857-1945-->


Sir Frank Short, R.A., P.R.E. 1857-1945.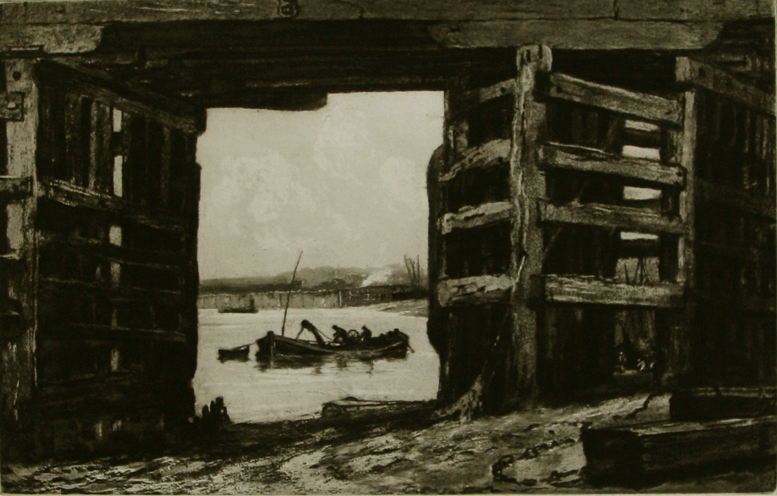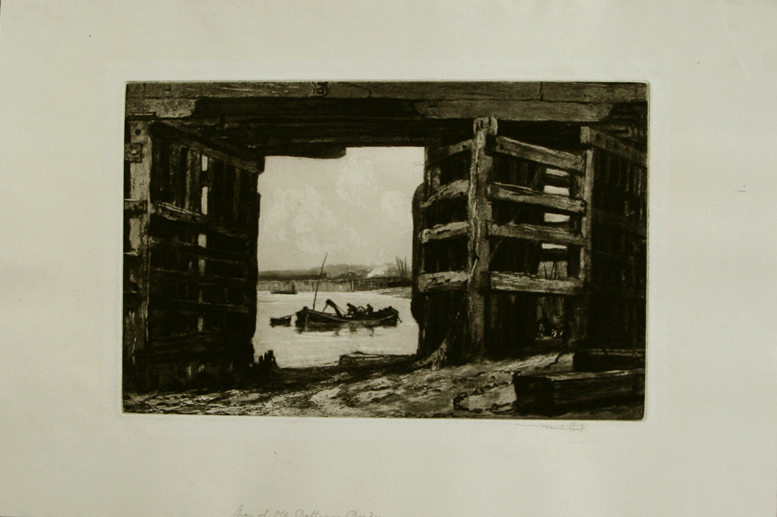 A Span of Old Battersea Bridge. 1899. Aquatint with soft-ground etching. Hardie 155. 7 1/2 x 11 5/8 (sheet 10 1/2 x 15). A dramatic, tonal impression printed on simili-japon paper. Illustrated: Lumsden, The Art of Etching Signed in pencil. $975.
Hardie describes the scene, "Through an opening between the heavy timbers of the old wooden bridge, beloved by Whistler, is seen a dredger at work in the river; on the mud, in the foreground to right, two baulks of timber with a chain attached" (page 49).
Short wrote this description fo Lumsden's book, The Art of Etching: "For the distance through the span of the bridge a spirit-ground was used to give an air of transparency as opposed to the dust-ground for the bridge itself, which is more sodden in sympathy with the old timebrs. The bridge part was got on the plate, in the first instance, by biting through bichromated gelatine, using for the transfer by a light a chalk-and-wash drawing on thin paper made transparent by varnish. This was afterwards strengthened by soft-ground and by re-biting with other aquatint grounds -- possibly two or three. The distance was done last by ordinary stopping-out. Perchloride of iron and nitric were the baths used."

To order, to report broken links or to be placed on the email list, please contact Jane Allinson (jane@allinsongallery.com)