!-Louis Conrad Rosenberg. 1890-1983-->


Louis Conrad Rosenberg, N.A. 1890-1983.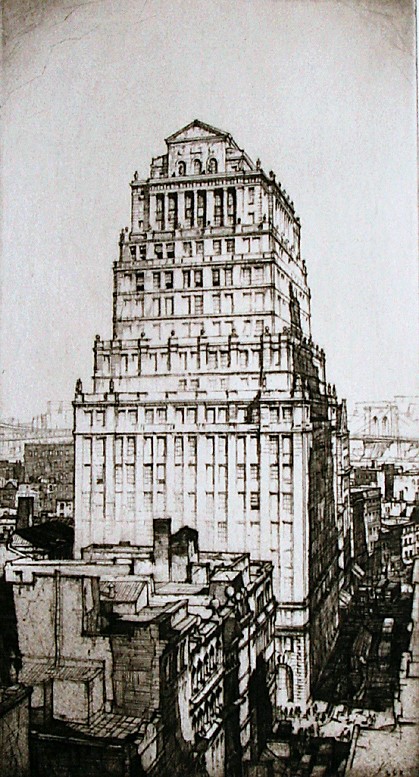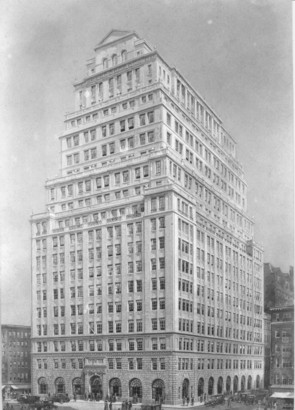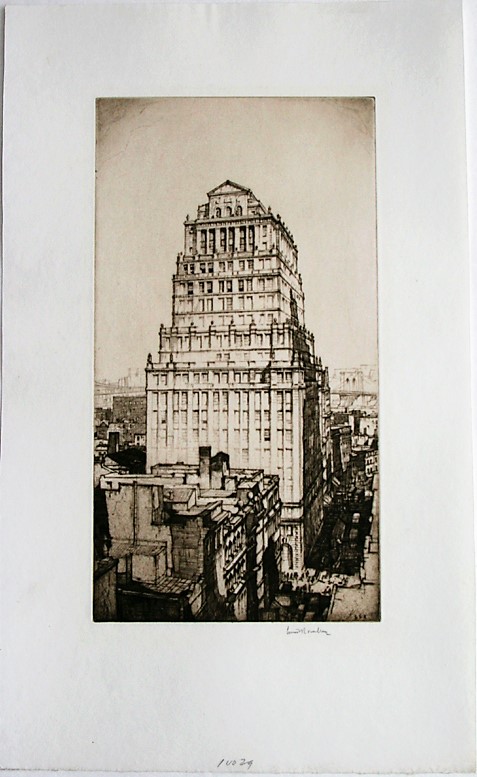 Royal Insurance Building of Canada. (Royal Globe Insurance Company Building) 1927. Drypoint. 12 x 6 1/2 (sheet 17 1/2 x 10 1/2). A rich impression with selective plate tone printed in black/brown ink on cream wove paper. Signed in pencil. $475.

Etcher and architect Louis Conrad Rosenberg was born in Portland, Oregon on May 6, 1890, the son of Charles and Hannah (Wikstrand). A precocious artist as a child, Rosenberg began his architectural training at the age of sixteen when his mother paid T. Chapell Brown, a New Zealand architect practicing in Portland, $50 a month for two years training; in 1908 Rosenberg began earning $5 a month working for Mr. Brown. It was not long before Rosenberg met another Portland architect, Ellis Fuller Lawrence, who recognized and appreciated Rosenberg's artistic talents and hired him at $8 a week.
By 1912 Rosenberg had distinguished himself through his architectural renderings and was awarded a scholarship by the Architectural Club of Portland, Oregon. His mentor, E. F. Lawrence, urged him to take his scholarship to the Massachusetts Institute of Technology where Rosenberg graduated in the spring of 1914. At that time Rosenberg won the M.I.T. Traveling Fellowship in Architecture. His plans for traveling in Europe were postponed, however, for Europe was embroiled in war and Rosenberg returned to Oregon. E.F. Lawrence was not only a practicing architect in Portland, but he was also in charge of the new School of Architecture at the University of Oregon, Eugene. Hi hired Rosenberg as an instructor of architectural design. In 1917 Rosenberg joined the U.S. Army and served in the Camouflage Corps, 40th Engineers, A.E.F., under the command of an architect, Aymar Embury. When Rosenberg completed his tour of duty in France in 1919, he returned to Oregon to marry Marie Louise Allen of Portland and became assistant professor of a
rchitectural design at the University of Oregon.
In June of 1920 Rosenberg departed for Europe with his Traveling Fellowship, his keen interest in the picturesque aspects of architecture and detail for which he was well known, and his sketch books. His travels took him to Great Britain, western and eastern Europe, and North Africa. At the American Academy of Rome in the winter of 1921-1922 Rosenberg began to express his artistic interest in architecture through a new medium, etching. Under the guidance of the American etcher Robert Fulton Logan, Rosenberg produced his first eight plates. These plates were already characteristic of a mastered hand; in fact, his fifth plate, St. Peter's Colonnade, executed in January of 1922, won a silver medal from the Print Makers Society of California in 1924.
While at the American Academy of Rome Rosenberg made the acquaintance of another etcher, William Walcot, with whom he later exchanged etchings. It was through Walcot that Rosenberg met a fine printer of etchings, H.C. Dickins, who financed the printing of some of Rosenberg's early plates. After the success of Rosenberg's 1923 etching "Moorish Archway," A.C. and H.W. Dickins, Inc. became the principle printer of Rosenberg's work and his agent through their offices in London and New York.
In 1922, after two years of travel and discovery in Europe, Rosenberg returned to America with a letter of introduction from the American Academy and he joined the New York architectural firm of York and Sawyer. He also compiled two books based on his European travels; the first, The Davanzati Palace, is an authoritative collection of photographs, plans and measured drawings including details of ornamentation and color which records this restored palace in Florence, Italy. The second, Cottages, Farmhouses and other Minor Buildings in England of the 16th, 17th, and 18th Centuries is a similar compilation accompanied by building material and color descriptions.
In 1923 Rosenberg executed three more etchings: San Gimignano, Bridge at Sospel, and Moorish Archway. The Moorish Archway was the first of Rosenberg's prints to appear in the "Fine Prints of the Year" series, appearing in the 1924 edition. The plate was purchased by Dickins and sixty prints were made. Along with Rosenberg's publications and etchings, his perspective drawings brought much acclaim from both clients and fellow architects. Before long Rosenberg was so well known for portraying the picturesque aspects of architecture that he began working for York and Sawyer on a half-time basis while keeping busy with free-lance architectural work.
A friend of Rosenberg's employer, Philip Sawyer, was English artist Muirhead Bone. Impressed with Rosenberg's talented architectural renderings and etchings, Bone persuaded Rosenberg to consider printmaking a profession rather than a hobby. As a result Rosenberg interrupted his architectural practice and in 1924 entered the Royal College of Art in London where he studied under Malcolm Osborne, A.R.A., master printmaker and director of the School of Engraving. During a year of study under this dry point artist, Rosenberg learned dry point techniques and perfected his etching, preserving the ancient architecture with its current habitues which he had sketched on his earlier trips to Europe. Of the two dozen etchings and dry points executed while living in London's west-end, seven were reproduced for the American Etchers series. Two won the Logan Prize: Chatelet at Vitre and The Little Market at Tours. La Rue Mirabeau at Bourges took the Brooklyn Society of Etchers Prize in 1926.
His first published print of 1927 was a dry point of the Royal Insurance Building of Canada in New York. From his personal journal we know that it was executed on January 18th in London and that 108 proofs were printed on 'modern' paper and signed; 107 were for sale and one personal proof was kept. This and other personal proofs are part of Special Collections & University Archives and are noted by and asterisk (*) in the body of the catalog. Also in 1927 two of Rosenberg's prints were exhibited at the Royal Academy in Stockholm: La Rue Mirabeau at Bourges and House of Salmon at Chartres.
In 1929 the Modern Masters in Etching series recognized Rosenberg by devoting volume twenty-two to his work. His prints are recognized for their pleasingly designed pictures which are well-balanced, though not stiffly symmetrical. he usually animates the structures with characters in the foreground going about their every day activities, whether business or leisure. Malcolm Salaman introduces the volume with contains twelve of Rosenberg's dry points: "He is yet another of that rare company of etchers who, having enjoyed the training of a practising architect, divined that he would never build better than he knew and that he would probably get more joyous excitement out of interpreting pictorially the spirit and design of earlier architects who had planned buildings to function through the centuries." (p.1)
According to Rosenberg, when the Depression hit many etchers were trying to make a living selling their prints for one dollar per square inch. Rosenberg was in Europe at this time but returned to the United States with a unique commission--construction etchings of the Cleveland Railroad Terminal. The city of Cleveland, Ohio was building a new railroad center in the business district to accommodate all trains entering the city. The Van Sweringen brothers were helping to finance the project and contracted with Rosenberg at $2000 per plate for prints showing existing sites, demolitions, and new structures. The Cleveland Series of dry points was executed between December 5, 1928 and November 7, 1930. Twenty two plates were finished and these prints are part of the Rosenberg Collection to which this catalog is dedicated. On November 10, 1930, in the midst of the twenty-third plate, Rosenberg received a call from Philip L. Small of the Van Sweringen office telling him to stop until further notice. It was never finished. The success of teh Cleveland series was well noted so that when the city of Cincinnati's railroad station was designed by the New York architectural firm of Fellheimer and Wagner, Rosenberg was again commissioned for a series of etchings based on a similar theme but with fewer plates of grander proportions. The eighth and final plate in the Cincinnati Series was finished in 1932 but by then the financial resources of the Cincinnati station project were diminished and it was several years before Rosenberg was paid in full. Both the Cincinnati and the Cleveland dry point plates were based on photographs and architectural drawings, rather than from his own sketches and drawings as well otherwise the case.
The Rosenbergs purchased six acres of land in Greenfield Hill, Fairfield, Connecticut in 1928 where they built a home of Louis' design. Interior and exterior photographs of the Rosenberg home by Henry H. Sayler for Architecture, January 1935, are included in the collection. Rosenberg was a neighbor of John Taylor Arms and these fellow etchers exchanged prints, criticized each others work and used many of the same European subjects. It was to the Arm's apartment over their garage that Mrs. Rosenberg moved when she sold their Greenfield Hill home while Louis was serving abroad in World War II.
Through the 1930s Rosenberg concentrated on etching and dry point, doing only occasional architectural work. With the advent of World War II, Rosenberg enlisted in the U.S. Army and was again assigned to a camouflage unit under the command of Aymar Embury, the New York architect. His company was sent to North Africa where Rosenberg sketched and water-colored. These are included in the book Middle East War Projects of Johnson, Drake, and Piper, Inc., for the Corps of Engineers, U.S. Army, 1942-43. The unit was broken up after eighteen months at which time Rosenberg returned to Portland where he worked with local architects Glenn Stanton and Hollis Johnston for three years. The 1940s saw the decline of etching as a popular medium and a lucrative market, according to Rosenberg, and with the death of his agent, H.C. Dickins, Rosenberg turned his attention once more to architectural rendering.
While working on plans for a Veterans' hospital in Klamath Falls, Oregon, Rosenberg met Aaron N. Kiff of the New York architectural alliance of Kiff-Colean-Voss and Souder of the York and Sawyer office. upon his return to New York in 1946, Rosenberg joined the Kiff alliance. Rosenberg worked his way up within the firm for the next eighteen years. He was head designer from 1958-1964 at which time he retired and returned to the Portland area where he still resides.

To order or to be placed on the email list, please contact Jane Allinson (jane@allinsongallery.com) or fax (860) 429 2825.