!-Joseph Pennell. 1857-1926-->


Joseph Pennell. 1857-1926.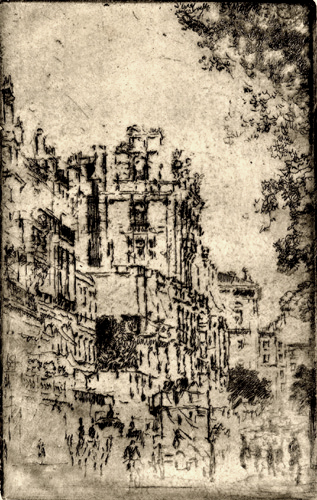 Park Lane. 1904. Etching. Wuerth 290.iii. Plate reduced to 5 1/16 x 3 1/2 (sheet 7 3/4 x 6 1/4). Printed by the artist on antique paper from an old volume. Signed and annotated 'imp' in pencil. An extremely rare unredorded state. $250.
Pennell printed about 6 impressions of the larger plate(10 3/8 x 8) and then cut it 9 1/4 x 7 . He further reduced the plate to the present dimensions, not recorded by Wuerth. The view looks down Park Lane (which then was a two-way street), a medley of architecture on the left, an indication of Hyde Park on the right, and horse-drawn cabs and buses, cyclists and pedestrians going in both directions.

To order, to report broken links or to be placed on the email list, please contact Jane Allinson (jane@allinsongallery.com) or fax (860) 429 2825.