!-Charles Mielatz. 1857-1926-->


Charles Frederick William Mielatz. 1861-1919.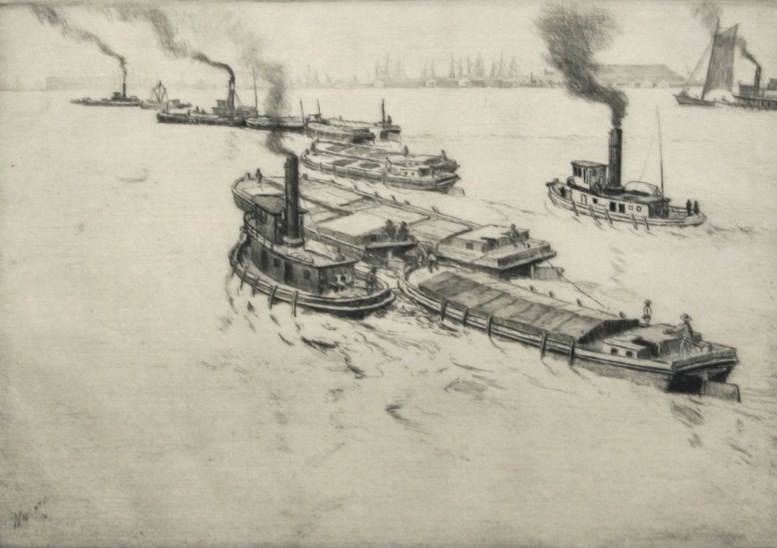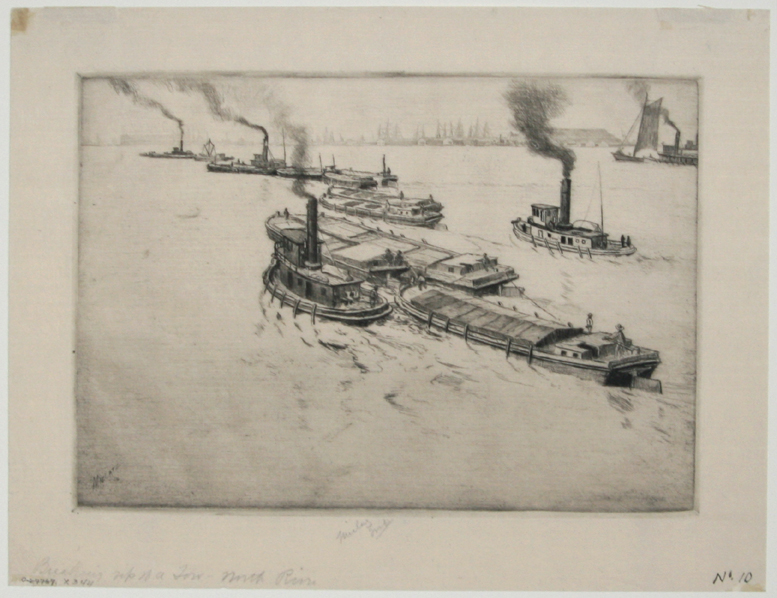 Breaking up a Tow -- North River. (Hudson River). c. 1905. Etching and drypoint. 6 3/4 x 10 (sheet 9 1/8 x 12). Printed on Japanese mulberry paper with full margins. A rich impression with plate tone, printed by the artist. Signed, titled and annotated 'imp' in pencil. $750.

North River is an alternate name for the southernmost portion of the Hudson River in the vicinity of New York City and northeastern New Jersey in the United States. At different times "North River" has referred to the entire Hudson; the approximate 160-mile portion of the Hudson below its confluence with the Mohawk River, which is under tidal influence; the portion of it running between Manhattan and New Jersey; and just the short length flowing between Lower Manhattan and Hudson County, New Jersey. Its history is strongly connected to New York Harbor's shipping industry, which shifted primarily to Port Newark in the mid-20th century due to the construction of the Holland Tunnel and other river crossings and the advent of containerization.
The names for the lower portion of the river appear to have remained interchangeable for centuries. In 1909, construction of two tunnel projects was under way: one was called the North River Tunnels, the other, the Hudson Tubes. That year the Hudson-Fulton Celebration was held, commemorating Henry Hudson, the first European to record navigating the river, and Robert Fulton, the first man to use a paddle steamer, named the North River Steamboat, to sail up it, leading to controversy over what the waterway should be called.

To order, to report broken links or to be placed on the email list, please contact Jane Allinson (jane@allinsongallery.com) or fax (860) 429 2825.