!-James McBey. 1883-1959-->


James McBey. 1883-1959.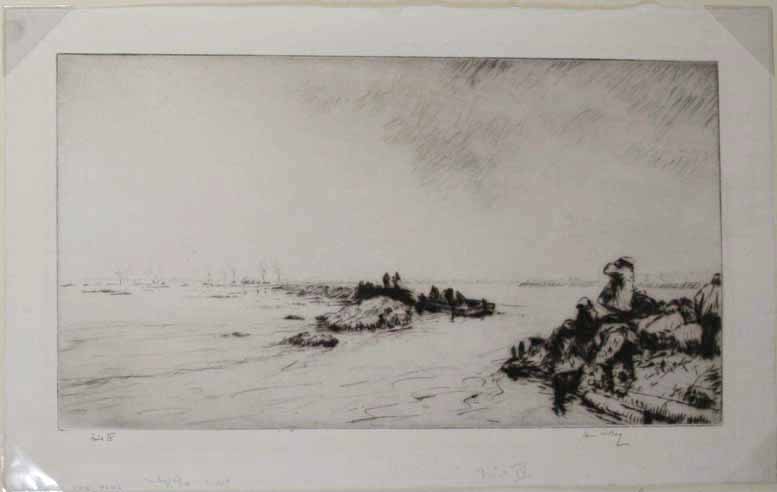 A Flood in the Fens. 1922. Drypoint. Hardie 209. 6 7/8 x 12 1/4 (sheet 9 x 14 1/2). Trial IV, before the edition 76. A rich, tonally wiped impression antique watermarked cream laid paper. Slight 1/2 x 1/16--inch rubbed line in the sky to the left of the tallest figure on the right; otherwise fine condition. Annotated in pencil 'Trial IV' and 'slightly cream' and 'bank clear' and 'keep clean through here'; signed and annotated 'Trial IV' in ink. A unique annotated proof. $600.

Hardie writes, "A scene near Southery, from a drawing made in 1915. There is a wide gap, broken by rising water, in the bank of a canal. On either side of the gap groups of men are working, those on the far side having a boat. Trees rise from flooded fields to the left."
Southery is part of the Fen Country. "In a massive arc around the wash lies the great Fenland plain. Only 5% of the total area of England and Wales is classified as first class agricultural land, and yet almost the whole of the Fenland falls into this category. Today, these are England's most prosperous agricultural areas, but there plenty has been hard won.
This is the Fen Country where, down the ages, land and water have been in such precarious balance that the difference between fertility and flooding has been measured in centimetres. Here, generation after generation has seen its livelihood engulfed by the wild waters of disaster. Only in the last three decades has the area finally been made secure by modern engineering. "

To order, to report broken links or to be placed on the email list, please contact Jane Allinson (jane@allinsongallery.com) or send a fax to (860) 429 2825.