!-Ernest Lumsden. 1883-1948-->


Ernest Lumsden, R.S.A., R.E. 1883-1948.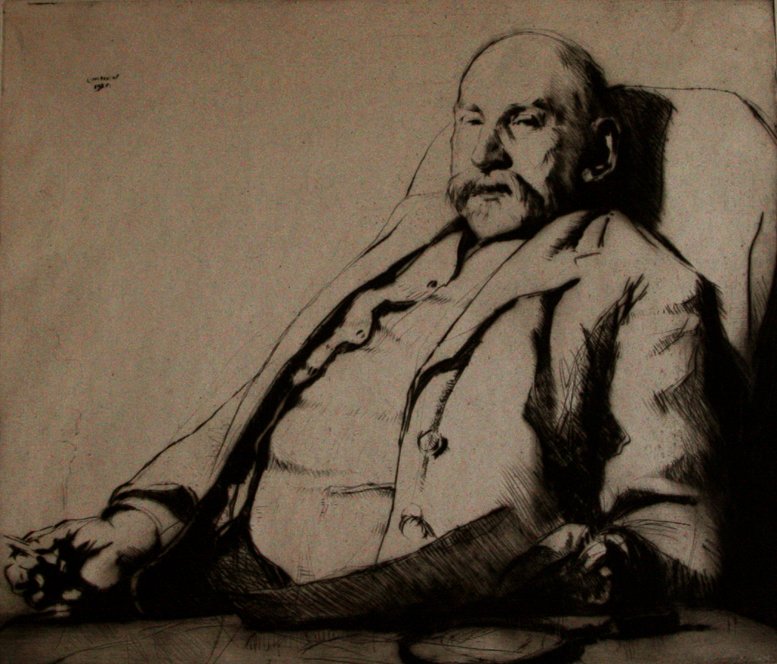 The Connoisseur: Malcolm Salaman. 1926. Drypoint. Boulet 202. Edition 540, #34. 9/8 x 11 1/2 (sheet 11 3/4 x 13). Illustrated: Print Collector's Quarterly 8 (1921): p.112. An extremely rich impression with drypoint burr and plate tone printed on Japanese mulberry paper. Signed, numbered and annotated 'imp' in pencil, indicating a proof printed by the artist. A penetrating portrait of the famous scholar. $1,500.

Malcolm Salaman was educated at University College School and at Owens College, Manchester. Although he had studied mechanical engineering for four years, he became a journalist, and edited two weekly papers. His critical writing was devoted chiefly to prints and to plays. From 1883 to 1894 he was dramatic and art critic for the Sunday Times, and from 1890 to 1899 was on the staff of the Graphic. He wrote regularly on prints for the art magazines The Studio and Apollo. Salaman also wrote the introductions to the 33 volume series Modern Masters of Etching published between 1925 and 1932 by The Studio, each of which contained reproduction of 12 prints by great etchers. Among his other publications are: The Great Painter-Etchers from Rembrandt to Whistler, the series, Modern Masters of Etching, The Graphic Arts of Great Britain; Drawing, Line-Engraving, Etching, Mezzotint, Aquatint, Lithography, Wood-Engraving, Colour-Printing.

To order or to be placed on the email list, call contact Jane Allinson (jane@allinsongallery.com)