!-Martin Lewis. 1881-1962-->


Martin Lewis, N.A. 1881-1962.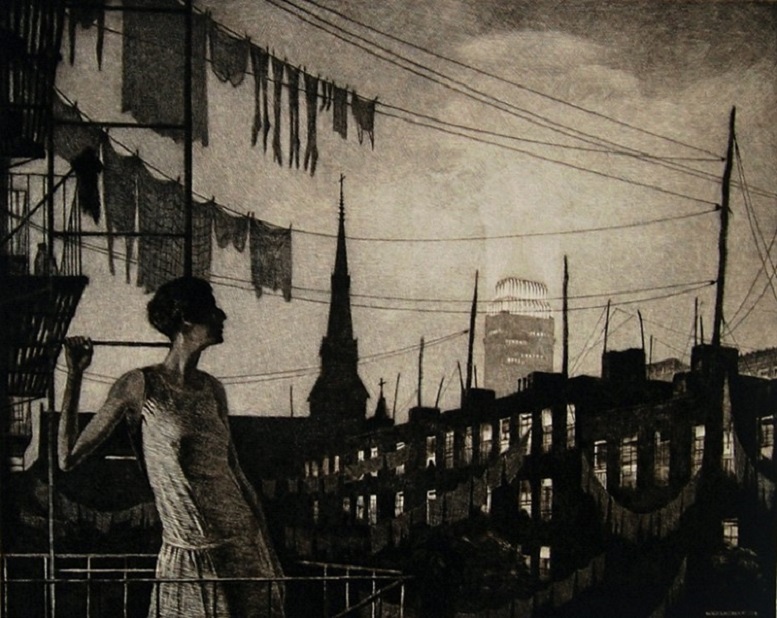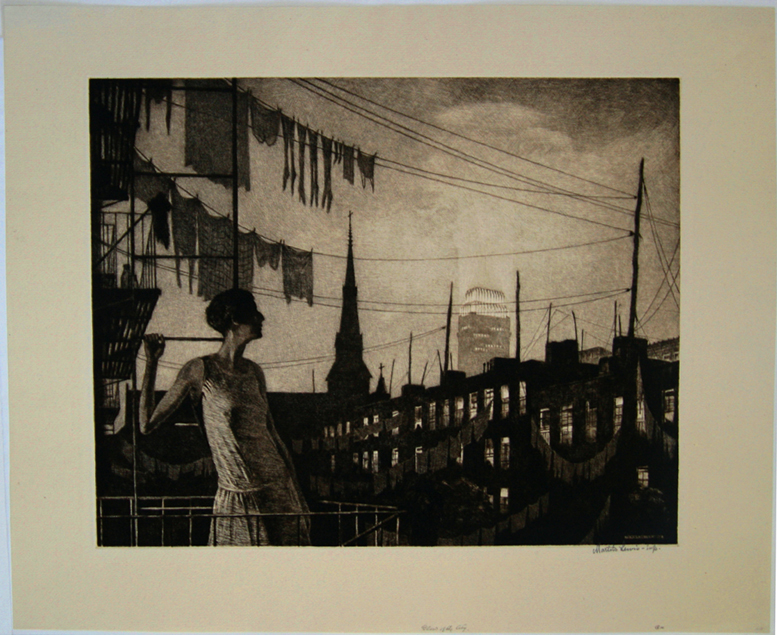 The Glow of the City. 1929. Drypoint. McCarron 77. 11 1/4 x 14 1/4 (sheet 14 1/8 x 18 3/4). Edition of 110 recorded impressions, including 4 trial proofs. Illustrated: American Etchers: Martin Lewis; Fine Prints of the Year, 1930. A rich impression printed on Kalmer Swedish paper, with full margins. Signed and annotated "imp" in pencil, indicating a proof printed by the artist. Price upon application.
The Glow of the Cityand Relics are considered to be Lewis' most iconic and important works. Lewis was awarded the Charles M. Lea prize from the Print Club of Philadelphia for two consecutive years in 1930 and 1931 for The Glow of the City (1929) and Spring Night, Greenwich Village (1930).
According to McCarron, "The stylized profile and pose of the woman owe something to what might be called the Egyptian mode of Art Deco." (page 142).
The Chanin Building, located at 122 East 42nd Street, at the corner of Lexington Avenue, in Manhattan, built by Irwin S. Chanin in 1929, had just been completed when Lewis executed this work. The building, constructed of buff-brick, limestone, and terra-cotta tower, is 680 feet high. Designed in the Art Deco style, its 56 story towers and blunt buttressed crown became a symbol of New York architectural modernism. It was designed by Sloan and Robertson in the Art Deco style, with the assistance of Chanin's own architect Jacques Delamarre, and it incorporates architectural sculpture by Rene Paul Chambellan. It is located at 122 East 42nd Street, at the corner of Lexington Avenue, across the street from the iconic Chrysler Building.
The dark steeple in the background is that of a church that once stood at the Manhattan entrance of the Midtown Tunnel.


To order, to report broken links or to be placed on the email list, please contact Jane Allinson (jane@allinsongallery.com), call (001) 860 429 2322 or fax (001) 860 429 2825. Business hours are 9:A.M. to 5 P.M. Eastern Standard Time.
Please click here to review the USE AND ACCEPTANCE AND PRIVACY POLICIES FOR THE ALLINSON GALLERY, INC. WEBSITE
Thank you for visiting this website.