!-David Jones. David Jones. 1895-1974.-->

David Jones. 1895-1974.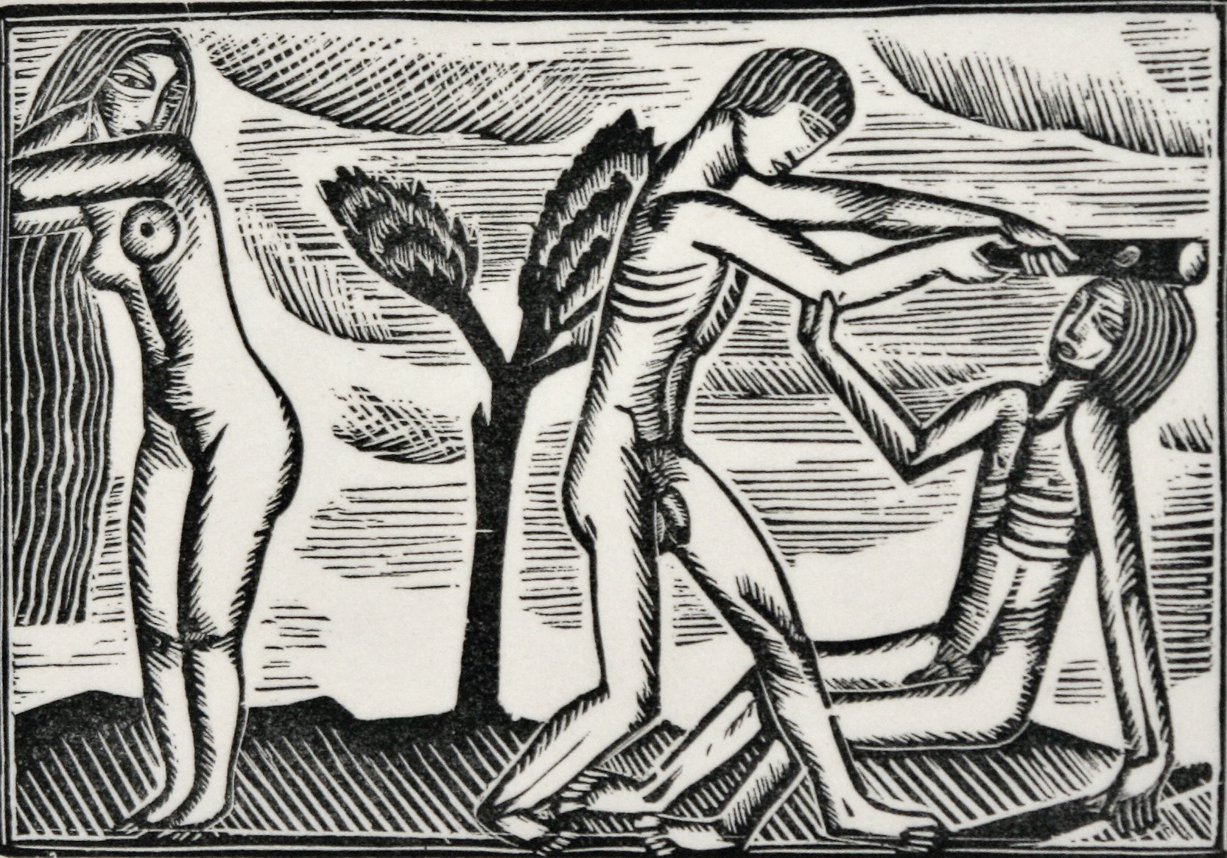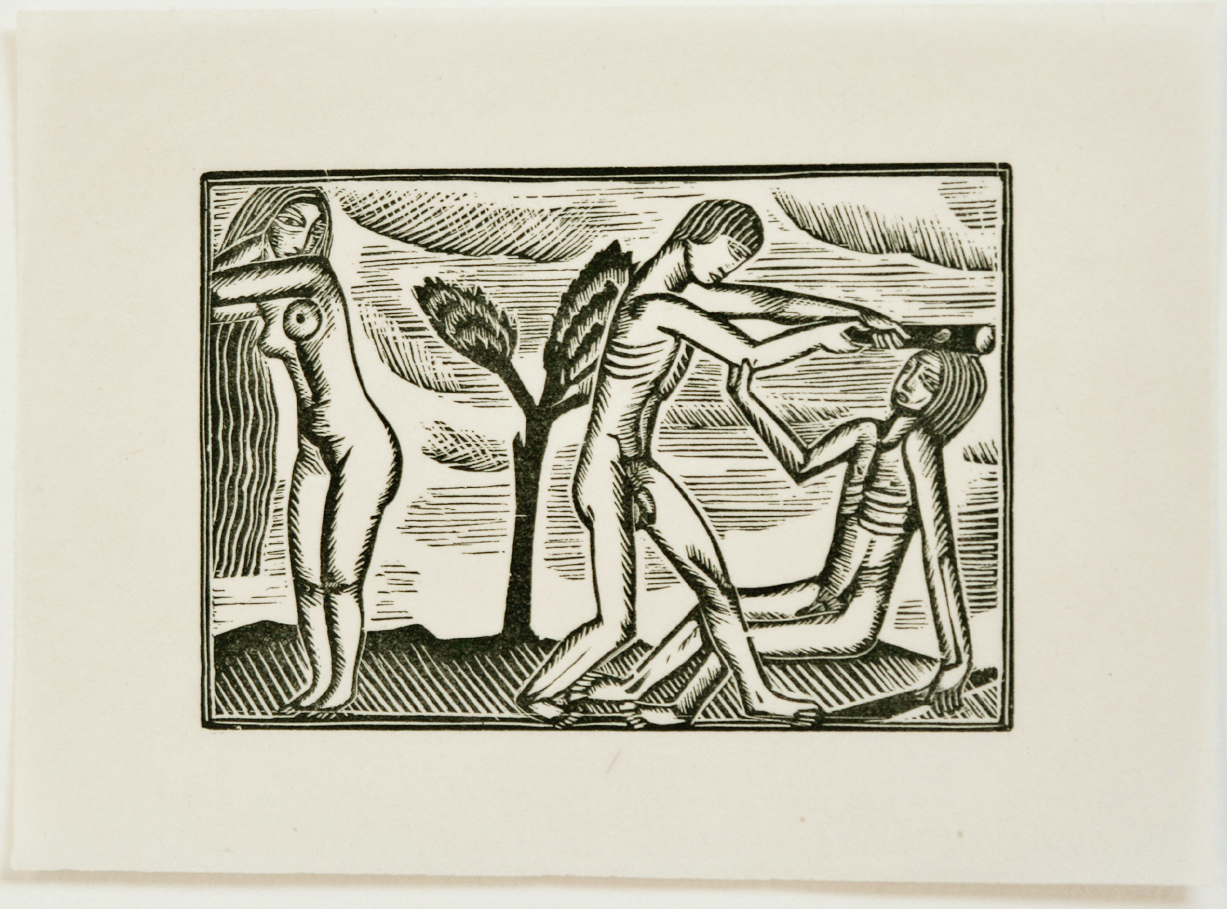 The Natural Law. 1924. Wood engraving. Cleverdon E8. 2 1/4 x 3 1/4 (sheet 3 1/2 x 4 7/8). A fine impression printed on cream japan paper. A proof aside from the published book edition of Libellus Lapidum by Hilary Pepler. Unsigned. $600.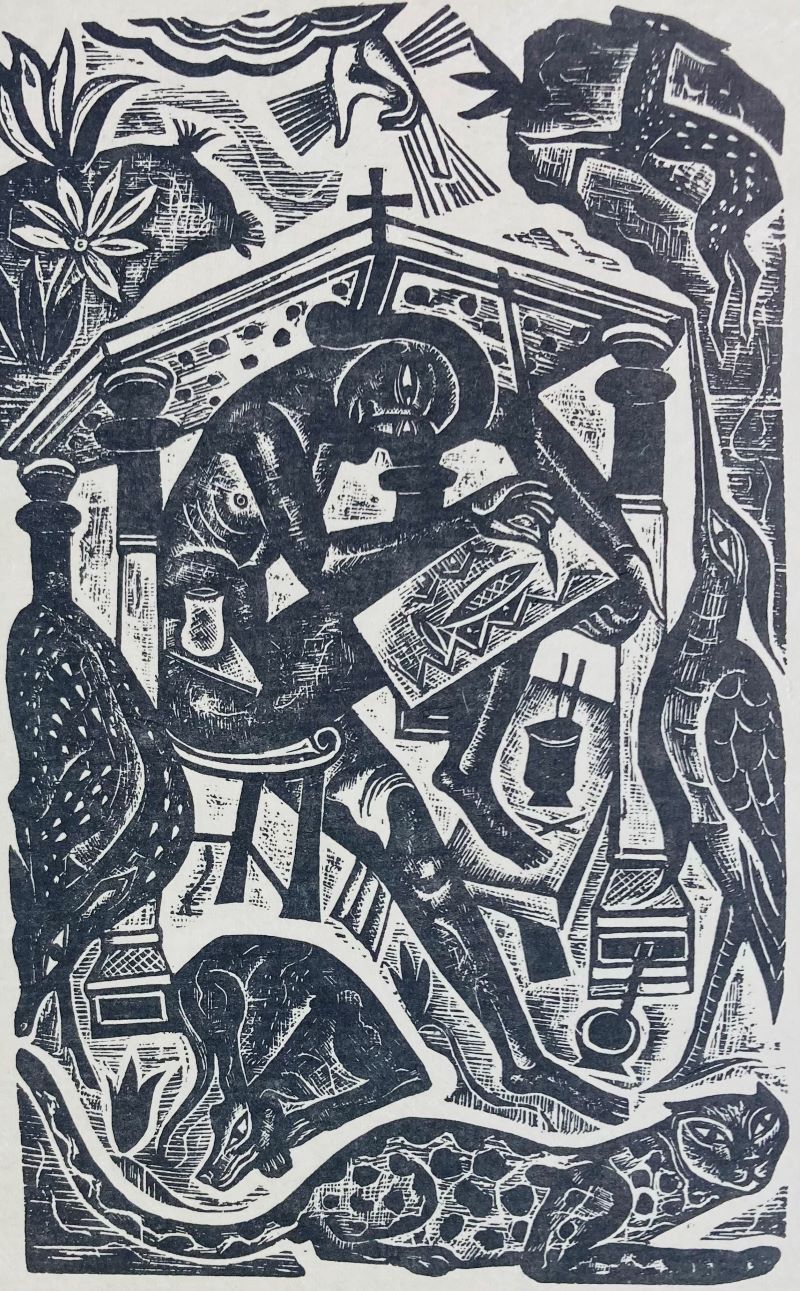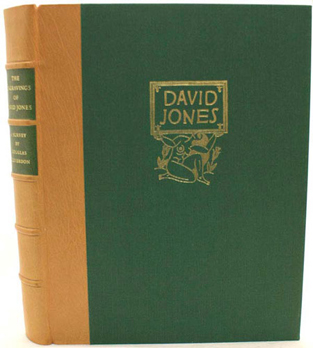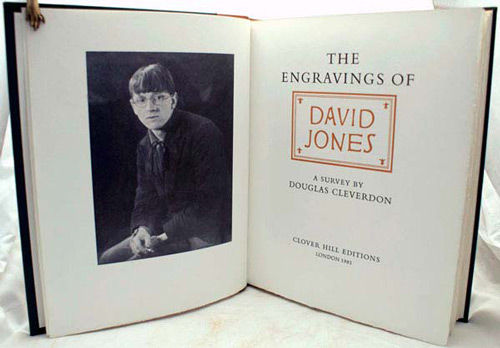 The Artist. 1927. Woodcut. 4 1/2 x 2 3/4 (sheet 12 x 9 1/4). As published in Douglas Cleverdon. The Engravings of David Jones: A Survey by Douglas Cleverdon. Frontispiece portrait, wood-engraving of the title page of Morte Darthur and 206 illustrations (three engraved by Eric Gill from the blocks designed by David Jones). Copy number xxv of 105 copies on J. Barcham Green hand-made paper, watermarked Clover Hill, with a separate portfolio containing a set of the engravings on japon, 9 copper engravings and one drypoint printed from the original copper-plates, of a total edition of 430. Portrait frontispiece of David Jones, wood-engraving of the title-page of Morte Darthur and 206 illustrations (three engraved by Eric Gill from the blocks designed by David Jones). Two volumes. Sm. folio, near fine in original quarter tan morocco, green cloth sides with "David Jones" device in gilt on upper cover, spine with green morocco and gilt labels, the portfolio in a uniformly bound clamshell box of tan and green cloth with green morocco spine labels, both volumes housed in a green cloth-covered slipcase. London, Clover Hill Editions. 1981. $4,500.

British painter, engraver, and writer, born at Brockley, Kent; his father, a printer, was Welsh, and his mother was English. He studied in London at Camberwell School of Art, 1909–15, and then after serving in France with the Royal Welch Fusiliers, at Westminster School of Art, 1919–22. His studies left him 'completely muddle-headed as to the function of art in general', but after converting to Roman Catholicism in 1921 he met Eric Gill and under his influence achieved a sense of purpose.
Gill not only introduced him to wood engraving but also guided him to reject the current concern with formal properties in favour of an art that aspired to reveal universal and symbolic truths behind the appearance of things. He collaborated with Gill for several years and was engaged to one of his daughters from 1924 to 1927. Jones worked mainly in pencil and watercolour, his subjects including landscape, portraits, still-life, animals, and imaginative themes (Arthurian legend was one of his main inspirations). As a writer he is best known for In Parenthesis (1937), a long work of mixed poetry and prose about the First World War. T. S. Eliot described it as a work of genius and it won the Hawthornden Prize. After the Second World War Jones retired to Harrow and devoted himself mainly to calligraphic inscriptions in the Welsh language.

To order, to report broken links or to be placed on the email list, please contact Jane Allinson (jane@allinsongallery.com), call (001) 860 429 2322 or fax (001) 860 429 2825. Business hours are 9:A.M. to 5 P.M. Eastern Standard Time.
Please click here to review the USE AND ACCEPTANCE AND PRIVACY POLICIES FOR THE ALLINSON GALLERY, INC. WEBSITE
Thank you for visiting this website.