!-Childe Hassam. 1859-1935-->


Childe Frederick Hassam, N.A. 1859-1935.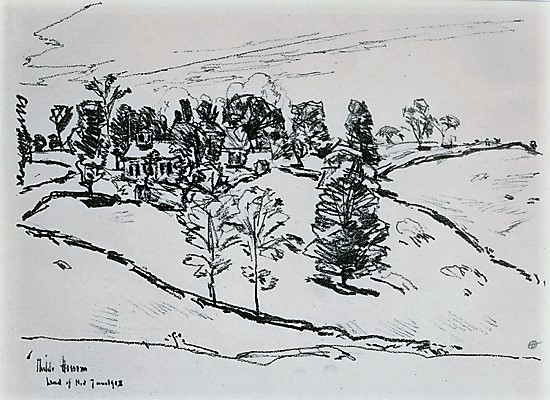 The Little Schoolhouse, Land of Nod. 1918. Lithograph. Griffith 19. 8 1/2 x 11 1/2 (sheet 11 7/16 x 17 7/8). Griffith 19. Edition 55. Printed on the full sheet of Japan paper, with deckle edges on three sides. Gift of Mrs. Hassam to the Museum of Fine Arts, Springfield, and deaccessioned by them. Signed "Childe Hassam June 1918" in the stone, and signed with the cypher in pencil. $2,500.

Hassam's friend and fellow impressionist, Alden Weir (1852-1919), purchased a farm on 735 Nod Hill Road in Wilton (and neighboring Barnchville and Ridgefield) Connecticut. Weir named his farm 'Land of Nod'. Although Hassam generally spent his summers at Cos Cob and Old Lyme, Connecticut and on the Isles of Shoals, off the New Hampshire coast, letters indicate that he did go to Branchville in the spring and fall. Ella Weir mentioned a visit from Mr. and Mrs. Childe Hassam as early as May 1894. At the end of September 1901, he offered to "come out and worry you for a while if… you are not full up." On a 1903 visit he sketched Weir's garden. In 1906 he spent "a couple of weeks" in Branchville; on a visit in the fall of 1909 he painted Late Afternoon, Weir's Farm,and another visit the following year led to his painting Road to the Land of Nod.

To order, to report broken links or to be placed on the email list, please contact Jane Allinson (jane@allinsongallery.com), call (001) 860 429 2322 or fax (001) 860 429 2825. Business hours are 9:A.M. to 5 P.M. Eastern Standard Time.
Please click here to review the USE AND ACCEPTANCE AND PRIVACY POLICIES FOR THE ALLINSON GALLERY, INC. WEBSITE
Thank you for visiting this website.