Frederick Landseer Griggs, R.A., R.E. 1876-1938.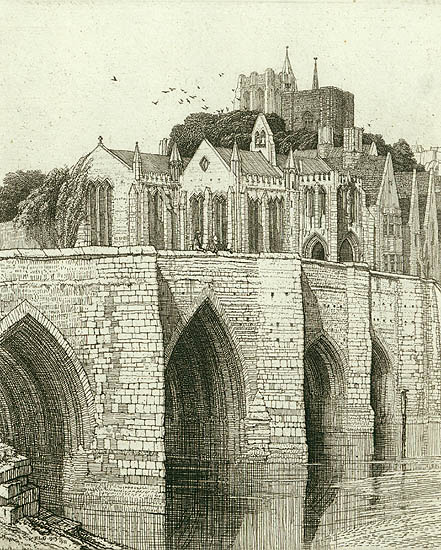 Linn Bridge. 1922. Etching. Comstock 29.iii/iv. 6 3/16 x 5 1/16 (sheet 10 7/16 x 17). Edition 40 in this state (total 61 proofs). Illustrated: Salaman, Modern Masters of Etching ; Print Collector's Quarterly 11 (1924): 107. A fine impression printed on antique cream laid paper. 'DP' (Dover House Press) stamp in ink, lower right . Signed in pencil. $1,500.
The subject is the central part of The Pool, Comstock 10, with alterations and additions.
According to Comstock "The artist commented, in a letter to Russell Alexanser: 'Nov. 30th, 1922. I have been, & am this morning again, busy on final touches to Linn Bridge. It has gone on getting further & further from the Salaman-McBey notions of what etchings should be, but it has become more & more the sort of place I should like to see; & also more & more, I hope, the sort of 'work of art' that you and old S.P. would like. I find myself so keen to realize the last shade of feeling on the copper that I've ceased to care how the effect is obtained, except that I won't use artificial tone" (p. 135).


To order, to report broken links or to be placed on the email list, please contact Jane Allinson (jane@allinsongallery.com), call (001) 860 429 2322 or fax (001) 860 429 2825. Business hours are 9:A.M. to 5 P.M. Eastern Standard Time.
Please click here to review the USE AND ACCEPTANCE AND PRIVACY POLICIES FOR THE ALLINSON GALLERY, INC. WEBSITE
Thank you for visiting this website.