Frederick Maur Landseer Griggs, R.A., R.E. 1876-1938.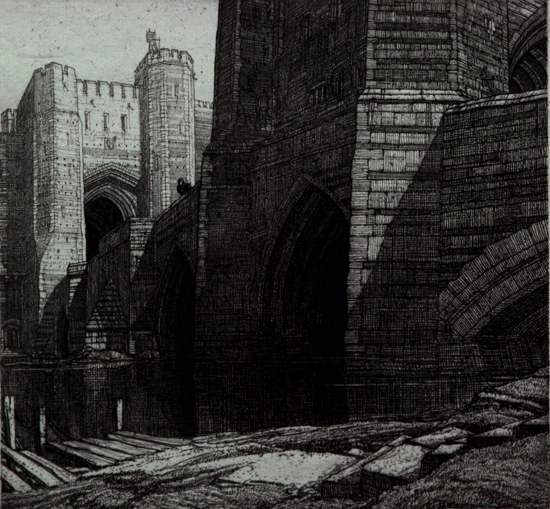 The Barbican. 1920. Etching. Comstock 26.i/iii. 6 3/16 x 6 3/4 (sheet 9 5/8 x 8 3/4). Edition 30 in this state (total edition about 61). A fine impression on blue/green laid paper. Signed and dedicated 'To R.A. Walker' in pencil. $2,000.
According to Comstock, "The plate is that of the earlier The Cresset, from which portrions of the etching on either side have been cut away. The whole has been enriched and strengthened and there is new work over the entire plate." (page 120).
A barbican is a fortified outpost or gateway, such as an outer defense to a city or castle, or any tower situated over a gate or bridge which was used for defensive purposes. Usually barbicans were situated outside the main line of defenses and connected to the city walls with a walled road called the neck.

To order, to report broken links or to be placed on the email list, please contact Jane Allinson (jane@allinsongallery.com) or send a fax to (860) 429 2825.