!- Shanti-->


Deirdre Allinson. Born 1968.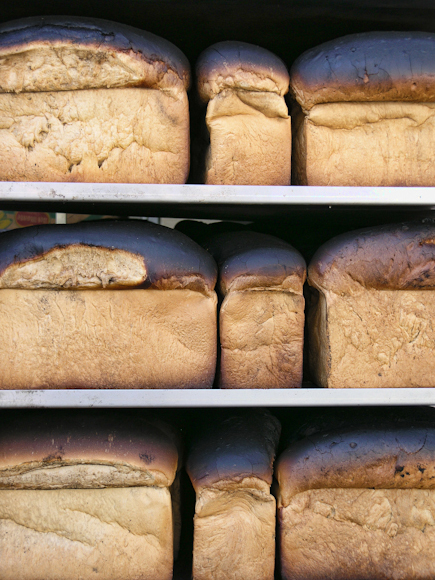 Fresh Bread for Kaya Toast, Singapore. January 18, 2008. Color photograph printed on Hahnemuhle paper. 13 1/2 x 10 1/4 (sheet 18 x 12). Signed in pencil. $360.

Kaya toast is a popular snack amongst Singaporeans and Malaysians. It consists of kaya, a spread of eggs, sugar and coconut milk and flavored with pandan on toasted or fresh bread or cream crackers. Butter or margarine may be spread as well.
This delicacy is credited to the Hainanese, many of whom worked on British ships as kitchen hands. When they settled in the British colonies now constituting Singapore and Malaysia, they started selling the foods which they prepared for the British, including coffee, toast, and French toast, to the local populations. They replaced the Western jams and preserves favoured by the British with native coconut jams. Singaporeans and Malaysians like to consume this food with a cup of tea or coffee; consequently, the snack's inclusion in many coffee houses.

To order, to report broken links or to be placed on the email list, please contact Deirdre Allinson (deirdre@deeallinson.com) or fax (860) 429 2825.