Roger L. Crossgrove. 1921-2016.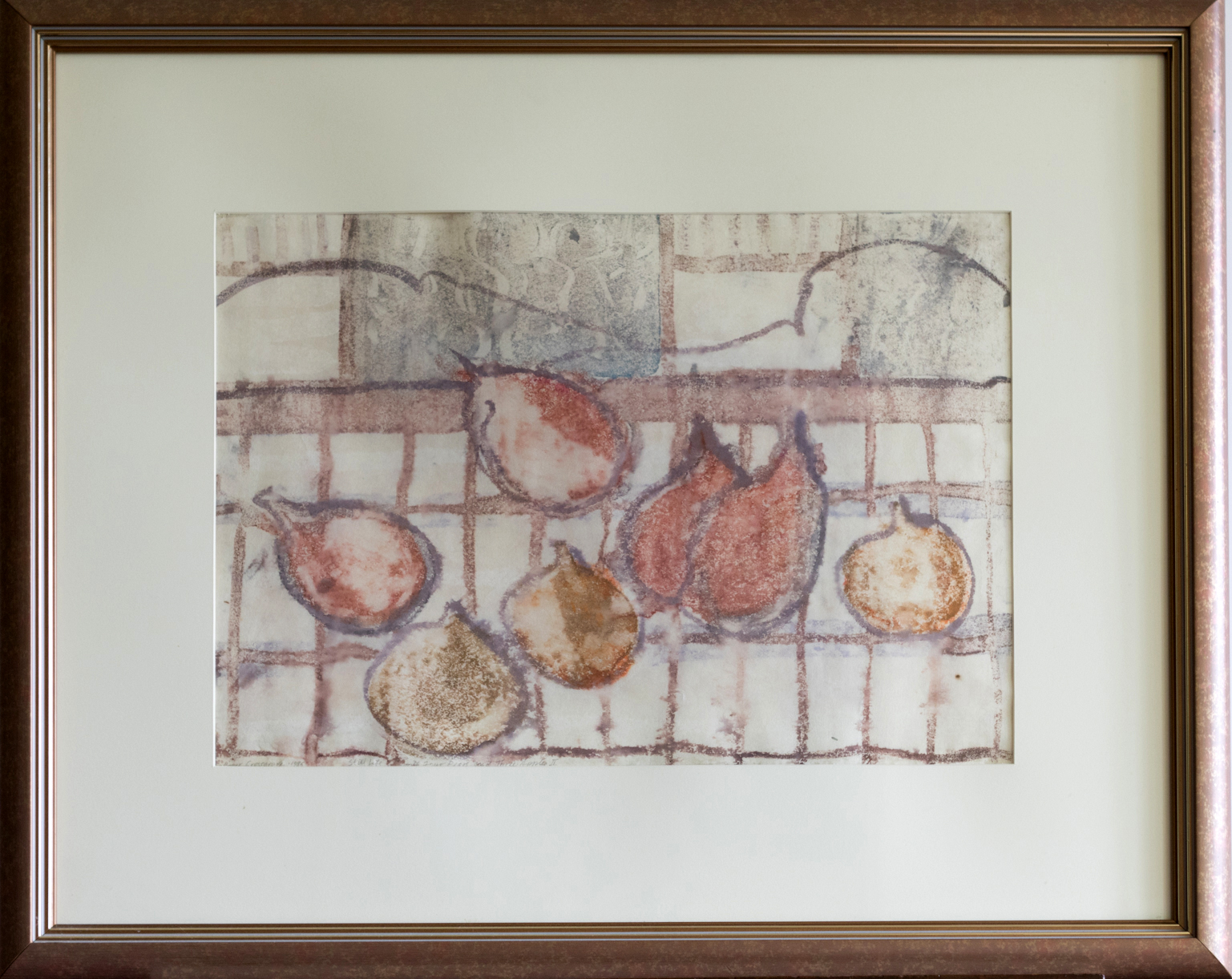 Still Life with Four Pears and Three Apples. 1985. Watercolor monotype printed in colors. 14 3/8 x 21 (image and sheet). Signed, dated and titled in pencil, lower right. Housed in a 25 x 31 1/2-inch copper frame with grey accents. $550.

Roger L. Crossgrove, Professor of Art Emeritus at the University of Connecticut, was born in Farnam, Nebraska in 1921. He received his BFA from the University of Nebraska in 1949 and his MFA in 1951 from the University of Illinois. He lived and painted in Mexico for two years, first in 1950 and again in 1965. He lived in Brooklyn, New York for more than fifteen years, where he taught at Pratt Institute in the Department of Graphic Art and Illustration. From 1968 until his retirement in 1988, he taught in the School of Fine Arts at the University of Connecticut in Storrs. Roger has had several one-man shows in Mexico as well as in New York and New England. He has exhibited widely in national exhibitions and won an Emily Lowe award, a National Arts Club Gold Medal, and numerous other awards, including those from the American Watercolor Society, Audubon Artists, and the Butler Institute of American Art. He is a member of the Connecticut Academy of Fine Arts, Connecticut Watercolor Society, and Artworks Gallery, Inc.; he is listed in Who's Who in the East and Who's Who in American Art. His works are included in many public and private collections.
The watercolor monotype has engaged Roger's attention for more than fifty years. In 1977 he exhibited several watercolor monotypes in Boston's Impressions Workshop Gallery exhibition, "Discover the Monotype," and the Smithsonian Institution Traveling Exhibition Service selected three of his monotypes in 1978 for inclusion in their "New American Monotypes," which toured the United States. He is referenced in Singular Impressions: The Monotype in America by Joann Moser (Smithsonian Institution Press, Washington, DC, 1997).
In 1976 Roger began to explore various aspects of photography, focusing on the male nude. His photographic work is included in Exposed: An Anthology of Photographs of the Male Nude by Phil Braham, (Thunder's Mouth Press NY, 2000) and in Male Nude Now: New Visions for the 21st Century by David Leddick (Universe Publishing NY, 2001).
Roger showed in numerous regional exhibitions and had one-man exhibitions as follows:
Roger L. Crossgrove, Three Decades: Works on Paper and Photographs January 1991, The William Benton Museum of Art, University of Connecticut, Storrs
Roger L. Crossgrove, Selected Works: Photographs 1978-1993 November 1993, Artworks Gallery, Hartford, CT
Works on Paper: Selected Monotypes and Photographs by Roger L. Crossgrove July 1995, Homer Babbidge Library, University of Connecticut, Storrs
Solo Show: Roger L. Crossgrove October 20- November 21, 1996, The Slater Memorial Museum, Norwich, CT
New Works on Paper: Monotypes and Photographs September 4- October 31, 1997, The Ellen Traut Collection, Hartford, CT
Diverse Affinities-Monotypes and Photographs, Works on Paper 1958-1998 November 4-28, 1998, Artworks Gallery, Hartford, CT
Diverse Affinities II-Monotypes and Photographs November 5-24, 1999, University of Connecticut Hartford Campus, Hartford, CT

To order, to report broken links or to be placed on the email list, please contact Jane Allinson (jane@allinsongallery.com) or fax (860) 429 2825.