!-Charles Meryon. 1821-1868-->

Charles Meryon. 1821-1868.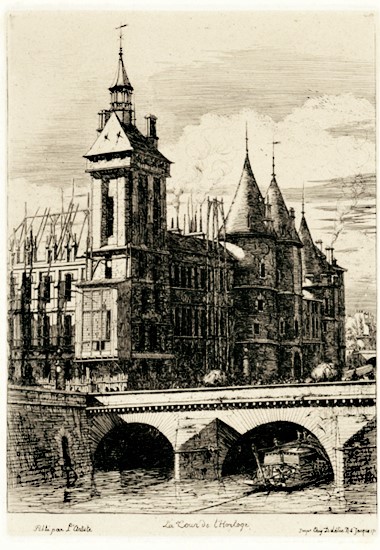 La Tour de l'Horloge. (The Clock Tower). 1858. Etching. Delteil-Wright 28.vi/x. Schneiderman 23.vi/x. Edition of 600 for l'Artiste volume 5, number 9,é October, 1858. 10 1/4 x 7 5/16 (sheet 12 1/4 x 18 5/8). Series: Eaux-Fortes sur Paris. Illustrated: Keppel, The Golden Age of Engraving; Salaman, Modern Masters of Etching: Meryon. Monogrammed in the plate, upper right. A glowing impression printed on warm brown India appliqué mounted on white wove paper. Scattered foxing in the margins, otherwise fine condition. Initialed in the plate. $3,000.

To order, to report broken links or to be placed on the email list, please contact Jane Allinson (jane@allinsongallery.com), call (001) 860 429 2322 or fax (001) 860 429 2825. Business hours are 9:A.M. to 5 P.M. Eastern Standard Time.
Please click here to review the USE AND ACCEPTANCE AND PRIVACY POLICIES FOR THE ALLINSON GALLERY, INC. WEBSITE
Thank you for visiting this website.