!-Joseph Webb. 1903-1970-->


Joseph Webb, A.R.E. 1908-1962.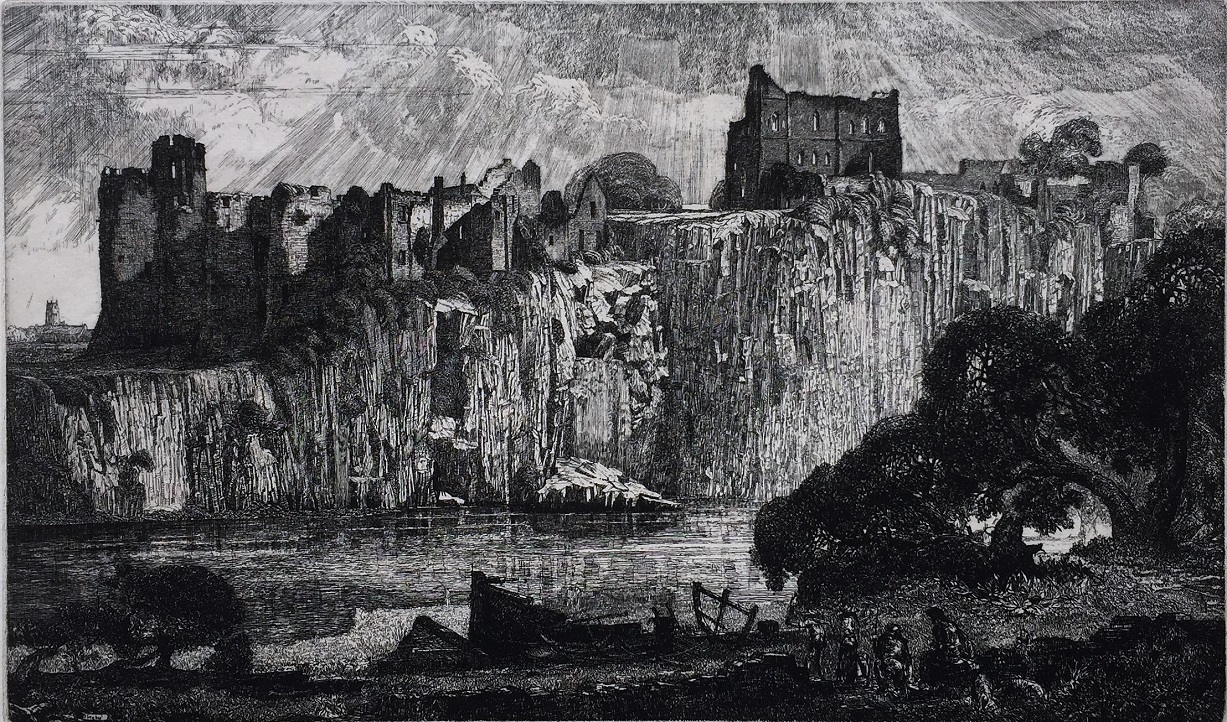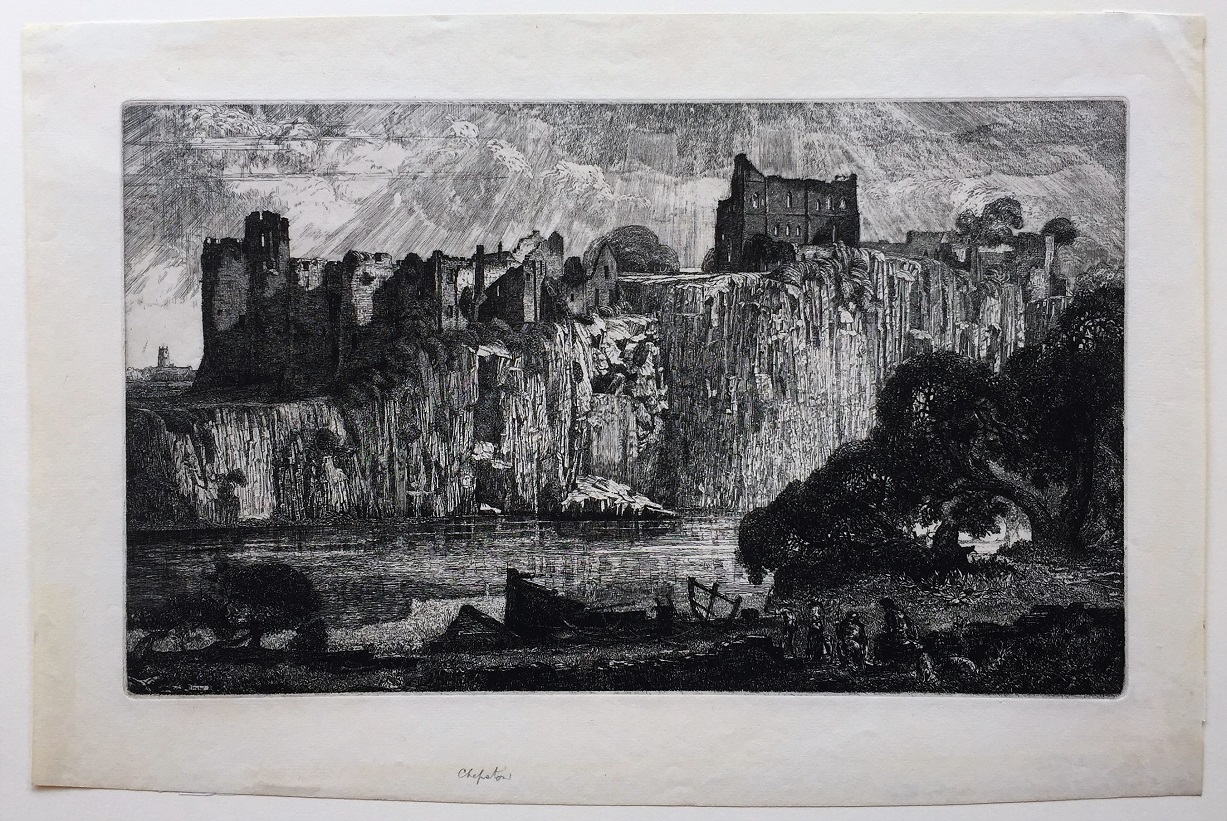 Chepstow. 1928. Etching with aquatint. Guichard 14.i/ii. State ii was issued in an edition of 50. 9 1/8 x 15 (sheet 12 1/4 x 18 7/8). A rich impression printed on J. Whatman cream wove paper. Illustrated: Fine Prints of the Year 1931; Guichard : British Etchers 1850-1940. Titled 'Chepstow' in pencil. Annotated verso: 'Chepstow by Joseph Webb from the collection of Beryl Gascoigne and Jane Furst.' Signed in the plate; artist' estate stamp, verso. $2,500.
"Webb adored the British countryside. Whether driving or walking, he never failed to be 'absorbed and enthralled'. In search of suitable subjects for etchings and paintings, he traveled that Summer (1928) to Gloucestershire and southeast Wales...Crossing into Wales, Webb set out on the Wye Valley Walk. In Monmouthshire he made drawings for 'Chepstow from the Cliff' and 'Chepstow', both etched in 1928. Strategically positioned high on cliffs above the River Wye, this magnificent Norman castle is among the oldest stone-built castles in Britain." - Robert Meyrick

Joseph Webb was a printmaker, muralist and teacher of etching and sculpture. Born in 1908 in Ealing, West London, Webb studied at Ealing and Chiswick Schools of Art and in 1925 won a scholarship to the Patrick Allan-Fraaser School of Art, Hospitalfield, Arbroath, Scotland. He began etching in 1927, returned to London in 1928 and taught etching under Hubert Schroder at Chiswick and with F L Griggs in Chipping Camden in 1929. He exhibited at the Royal Academy, the Royal Society of Painter-Etchers and Engravers, of which he was made an associate in 1930, the Royal Scottish Academy, the Royal Hiberian Academy and at the Walker Art Gallery, Liverpool. He taught etching and scuplture at Chiswick School of Art. His work was influenced by Samuel Palmer, Graham Sutherland and Robin Tanner. He abandoned printmaking in 1950 and no longer exhibited. He lived at Wembley, Middlesex and Farnham Common, Buckingham and died in London in 1962. The work of Joseph Webb is regarded by many as the last flowering of the Griggs and Palmer tradition. Joseph Webb had a great admiration for the work of F.L.Griggs whom he visited at Chipping Campden in 1929,

To order, to report broken links or to be placed on the email list, please contact Jane Allinson (jane@allinsongallery.com), call (1) 860 429 23225. Business hours are 9:A.M. to 5 P.M. Eastern Standard Time.
Please click here to review the USE AND ACCEPTANCE AND PRIVACY POLICIES FOR THE ALLINSON GALLERY, INC. WEBSITE
Thank you for visiting this website.