!-William Walcot. 1874-1943-->


William Walcot, R.E. 1874-1943.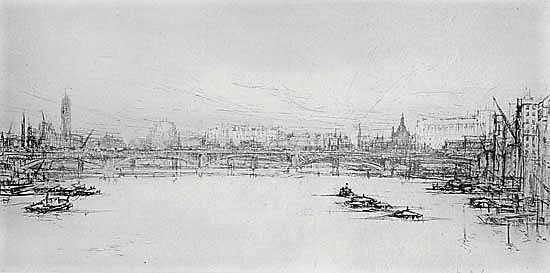 The Thames - Pool of London. c. 1920. Etching and drypoint. 5 7/8 x 11 7/8 (sheet 10 1/4 x 16). Edition about 100. A fine proof with tonal wiping, printed on cream wove paper. Signed in pencil. $725.
Originally, the Pool of London was the stretch of the River Thames forming the south side of the City of London. The term was later used more generally to refer to the stretch of the river in between London Bridge and Rotherhithe, which constituted the furthest reach that could be reached by a tall-masted vessel. It therefore became a key part of the Port of London. The Pool of London is divided into two parts, the Upper Pool and Lower Pool. The Upper Pool consists of the section between London Bridge and Tower Bridge, while the Lower Pool traditionally runs from Tower Bridge to the Cherry Garden Pier in Rotherhithe. It was of vital importance to London for centuries - as early as the 7th century the Venerable Bede wrote that the Pool was the reason for London's existence - but reached its peak in the 18th and 19th centuries. The abrupt collapse of commercial traffic in the Thames due to the introduction of shipping containers and coastal deep-water ports in the 1960s emptied the Pool and led to all of the wharves being closed down, and many being demolished. The area was extensively redeveloped in the 1980s and 1990s to create new residential and commercial neighbourhoods.


To order, to report broken links or to be placed on the email list, please contact Jane Allinson (jane@allinsongallery.com), call (001) 860 429 2322 or fax (001) 860 429 2825. Business hours are 9:A.M. to 5 P.M. Eastern Standard Time.
Please click here to review the USE AND ACCEPTANCE AND PRIVACY POLICIES FOR THE ALLINSON GALLERY, INC. WEBSITE
Thank you for visiting this website.