!-frank short. 1865-1945-->


Sir Frank Short, R.A., P.R.E. 1857-1945.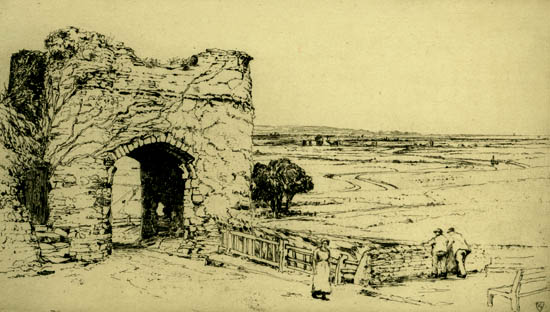 Strand Gate, Winchelsea. 1910. Drypoint. Hardie 367.i/ii. 7 1/8 x 12 1/2 (sheet 9 1/16 x 4 7/16). A rich impression with plate tone, printed on cream laid paper with full margins. Excellent condition. Signed in pencil. $200.
Printed from the only edition in the first state. Subsequently, Short cut down the plate, used the left-hand portion for laying a 'rebiting' ground and printed 13 impressions only.
The Strand Gate (also known as the East Gate and Watchbell Gate) was built around 1300 to protect the entrance from the harbor at the bottom of Strand Hill. Strand Gate was at least a third higher than it is today and incorporated two portcullises and a pair of gates. There was a porterís lodge inside the northeastern tower and a room for the portcullis winding gear on the first floor. The town wall joined the northwestern and southeastern towers. The Strand Gate incorporated decorative stonework, some of which is still visible, suggesting that it was seen as the main entrance into the town (as it is today).

To order, to report broken links or to be placed on the email list, please contact Jane Allinson (jane@allinsongallery.com) or send a fax to (860) 429 2825.