!-Sir frank short-->


Sir Frank Short, R.A., P.R.E. 1857-1945.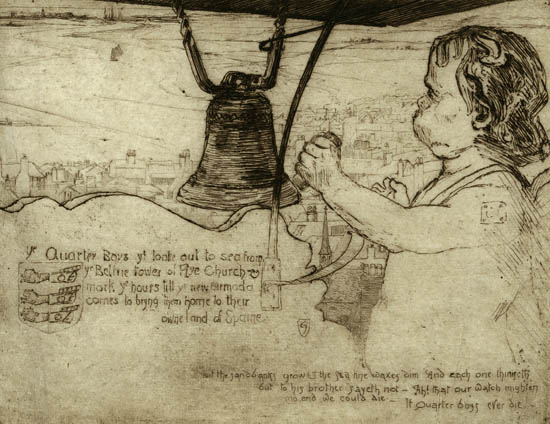 Prisoners of War. 1890. Etching. Hardie 240. 5 15/16 x 7 3.4 (sheet 7 x 8 11/ 16). Printed with plate tone on off-white laid paper. Two printing folds in the lower margin, the right-hand one just extending into the image. Signed in pencil. $175.
This etching is of the bell tower of Rye Church, in Rye, England. Inscribed with the Arms of Rye are the following lines: 'Ye Quarter Boys yt took out to sea from/ ye Belfrie tower of Rye Church &/ mark ye hours till ya new Armada/ comes to bryng them home to their/ owne land of Spaine. / But the sandbanks grow & the sea line waxes dime And each one thinketh,/ but to his brother sayeth not-Ah! that our watch/ mighten end, and we could die-/ If Quarter Boys ever die.'

To order, to report broken links or to be placed on the email list, please contact Jane Allinson (jane@allinsongallery.com) or send a fax to (860) 429 2825.