!-frank short. 1857-1945-->


Sir Frank Short, R.A., P.R.E. 1857-1945.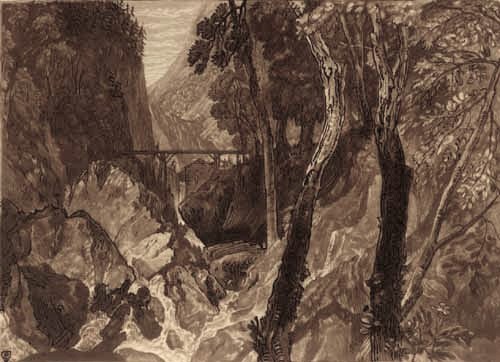 Mill Near the Grand Chartreuse -- Dauphiny (after the drawing by J.M.W. Turner, R.A., 1775-1851.) 1886. Mezzotint. Hardie 9.ii. Image 7 3/8 x 10; plate 9 x 11 7/8; sheet 12 5/8 x 17 1/2. A fine, richly-inked proof printed on white wove paper. Signed in the plate. This is the finished mezzotint. $200.
The Grand Chartreuse runs through the Alps of Dauphine near Grenoble. Frank Short worked on the uncompleted Liber Studiorum throughout his career, completing 47 etched and mezzotinted plates.


To order, to report broken links or to be placed on the email list, please contact Jane Allinson (jane@allinsongallery.com), call (001) 860 429 2322 or fax (001) 860 429 2825. Business hours are 9:A.M. to 5 P.M. Eastern Standard Time.
Please click here to review the USE AND ACCEPTANCE AND PRIVACY POLICIES FOR THE ALLINSON GALLERY, INC. WEBSITE
Thank you for visiting this website.