!-Sir William Rothenstein, R.E., R.A. 1872-1945-->


Sir William Rothenstein, R.E., R.A. 1872-1945.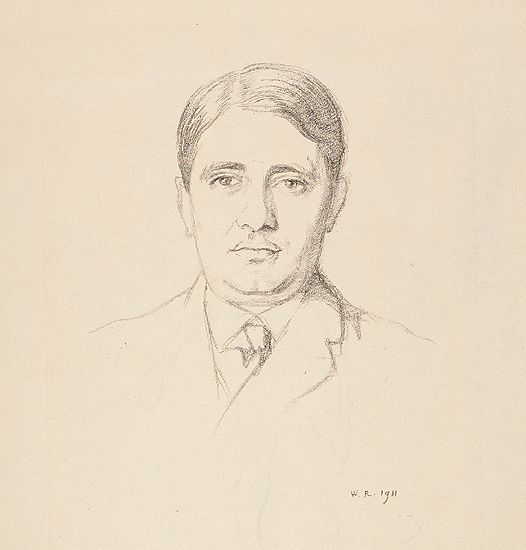 Portrait of Arthur B. Spingarn. c. 1911. Lithograph. 6 x 5 1/2 (sheet 18 1/16 x 11 3/16). Printed on 'Van Gelder Zonen' laid paper with a Fortune Figure watermark. Signed in pencil. $350.
Arthur Barnette Spingarn (1878-1971) was a American leader in fight for civil rights for African Americans.
Spingarn was born into a well-to-do family. He graduated from Columbia College in 1897[1] and from law school in 1899.[2] He was one of a small group of white Americans who decided in the first decade of the 20th century to support the radical demands for racial justice being voiced by W.E.B. Du Bois in contrast to the more ameliorative views of Booker T. Washington. He served as head of the the legal committee of the National Association for the Advancement of Colored People (NAACP) and one of its vice-presidents starting in 1911.
He interrupted his legal career to serve for several years as a army captain in the Sanitary Corps during World War I and protested the discriminatory treatment of African Americans in the U.S. military. He succeeded his brother Joel Elias Spingarn as president of the NAACP in 1940 when the legal arm of the organization was spun off into the NAACP Legal Defense and Educational Fund. He served as the NAACP's president until 1965.
Spingarn was an avid collector and amassed a collection of materials – books, newspapers, manuscripts, and realia – related to the African American experience worldwide, a collection "unique in its depth, breadth, and quality,"[3] which he sold to Howard University, where it was incorporated into the re-named Moorland-Spingarn Research Center, the largest and most valuable research library in America for the study of Negro life and history.

To order or to be placed on the email list, please contact Jane Allinson. (jane@allinsongallery.com).