!-Martin Lewis. 1881-1962-->


Martin Lewis, N.A. 1881-1962.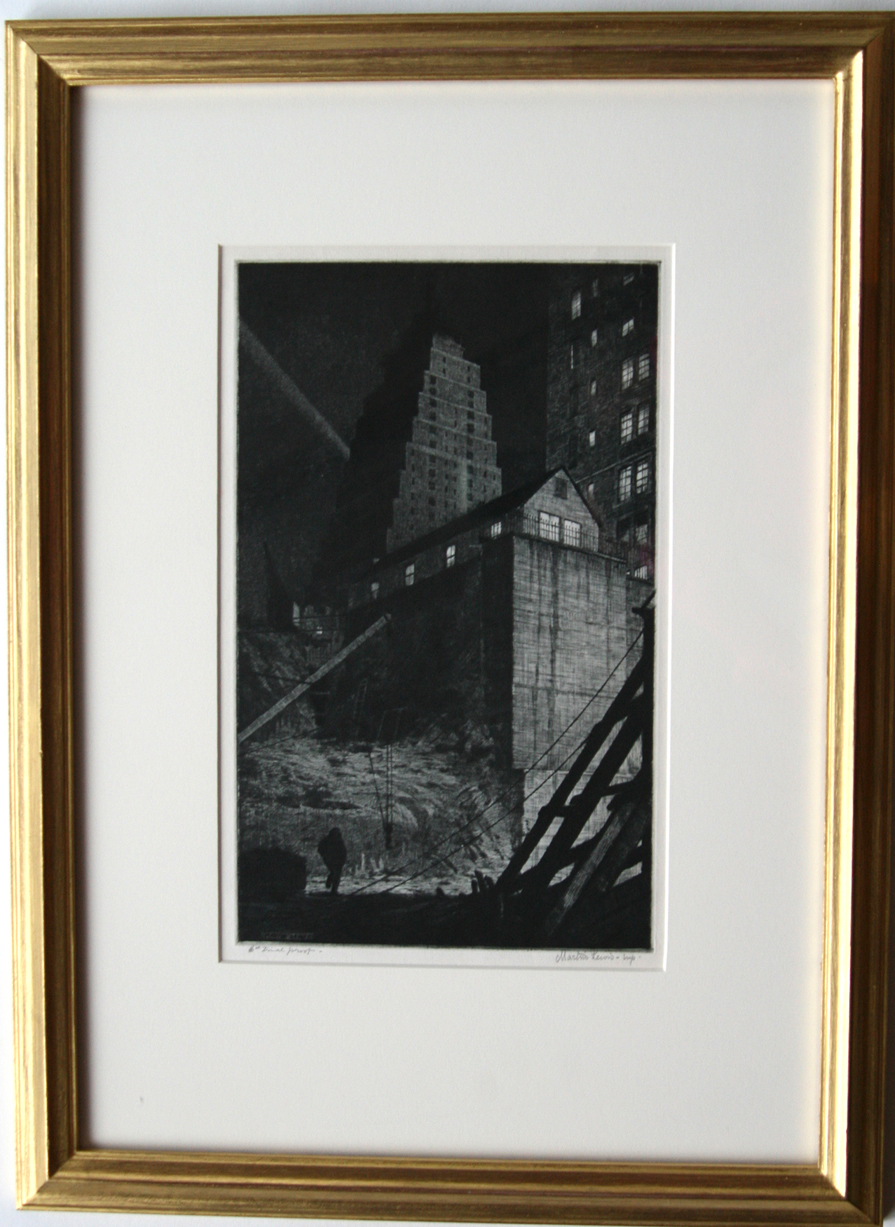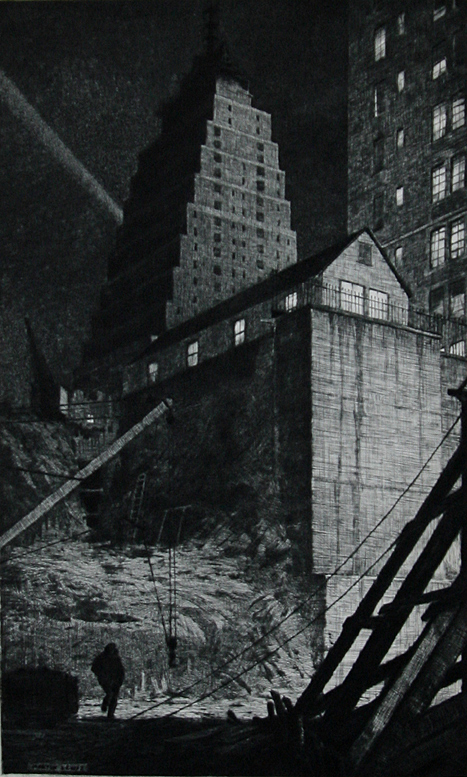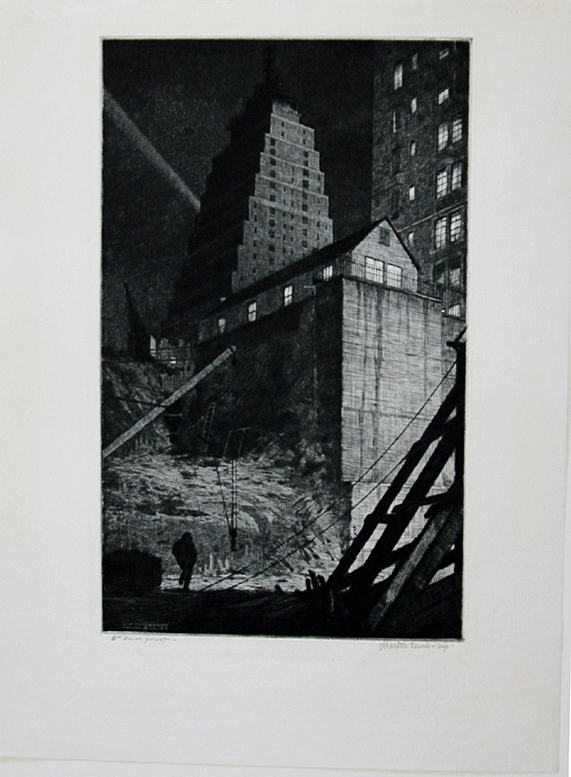 Building a Babylon, Tudor City, NY. 1929. Drypoint. McCarron 76. 12 7/8 x 7 7/8 (sheet 16 5/8 x 12 1/4). 6th trial proof (McCarron records 84 impressions including 4 trial proofs). Illustrated: L'Amérique de la Dépression: Artistes Engagés des Années 30, Musée-Gallerie de la Seita, Paris, 1996. A rich impression printed on FJ Head creamlaid paper with a partial initial countermark and a hand watermark. A rare proof, unknown to McCarron. Annotated '6th trial proof' and signed 'Martin Lewis imp' in pencil, indicating an impression printed by the artist. Housed in a 23 x 17-inch gold leaf modernist frame. $12,500.

McCarron writes, p. 140: "The stepped pyramidal form of the towering skyscraper at the top of the print reflects New York City's 1916 zoning laws that required buildings to be set back in specific increments for each increase in height; the resulting stepped buildings became known as 'wedding cake' architecture."

"Tudor City was designed as a series of apartment buildings that surround two blockfront-long shared parks. With its buildings arranged roughly in a U-shape open to the west – 'the tall Windsor, Tudor, and Prospect Towers along the eastern edge and the parks at its center' – the complex turned its back on the noisome industrial area then located to the east and created a clearly identifiable neighborhood distinct from the grid around it.
From the beginning, the project was referred to as Tudor City, referring to its style of architectural ornament. Known as Tudor Revival, the style mixed the 16th-century English forms Tudor and Elizabethan. In early 20th-century America, these architectural motifs had come to symbolize the comforts of suburban living. Tudor City was conceived as an urban response to the suburban flight of the middle class, and therefore was designed with the architectural forms expected in a suburban development. By the time of Tudor City, the Neo-Tudor style had already been used on a limited number of urban apartment buildings, including Hudson View Gardens in Washington Heights (New York City) and several erected by the Fred F. French Company.
The architects and designers of Tudor City, led by chief architect H. Douglas Ives,[B] used a broad range of Tudor Revival details, including towers, gables, parapets, balustrades, chimney stacks, oriels, bay windows, four-centred arches, pinnacles, quatrefoils, fish bladder moldings, Tudor roses, portcullises (a symbol of the Tudor sovereigns), and rampant lions carrying standards. Much of the Tudor effect in Tudor City is gained through the use of carved or cast stone and terracotta detail. The Tudor skyline of the complex is complemented at ground level by a series of stained glass windows ranging from those with lightly tinted non-figural designs to scenes depicting the history of New York.
The wooden entrance doors are carved with such Tudor forms as linenfold panels and fish-bladder tracery, and decorated with hardware based on sixteenth-century precedents. Public lobbies include half-timbering, carved woodwork, beamed ceilings, arched openings, plaster friezes and rosettes, and Tudor-style fixtures and furnishings. Although the buildings are unified by the consistent use of Tudor detail, there is a significant amount of variety since no two buildings have the same decoration. The stone, terracotta, woodwork, ironwork, and glass used were of the highest quality." Wikipedia.


To order, to report broken links or to be placed on the email list, please contact Jane Allinson (jane@allinsongallery.com), call (001) 860 429 2322 or fax (001) 860 429 2825. Business hours are 9:A.M. to 5 P.M. Eastern Standard Time.
Please click here to review the USE AND ACCEPTANCE AND PRIVACY POLICIES FOR THE ALLINSON GALLERY, INC. WEBSITE
Thank you for visiting this website.