!-Sir Francis Seymour Haden. 1818-1910-->


Sir Francis Seymour Haden, P.R.E. 1818-1910.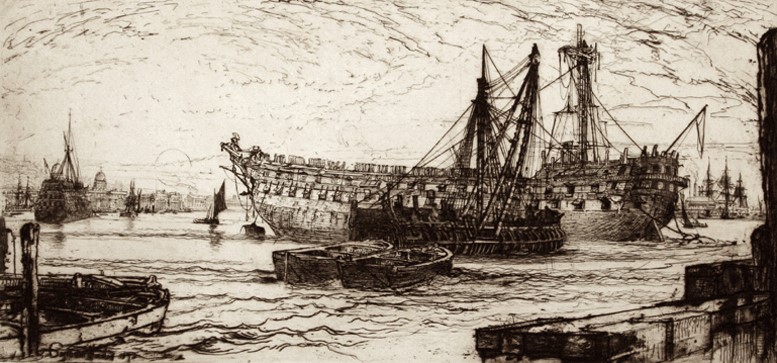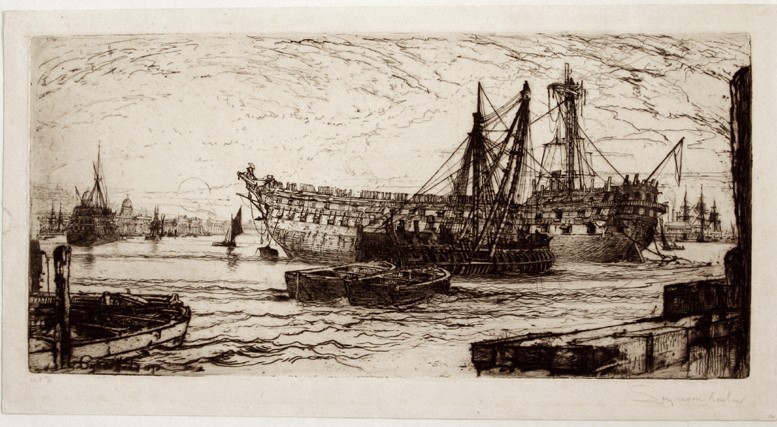 Breaking up of the Agamemnon, No 1. 1840. Etching and drypoint. Schneiderman 133.v/xi. 7 3/4 x 16 3/8 (sheet 9 1/4 x 17 1/2). A rich impression with plate tone printed in black/brown in on antique cream wovepaper. Signed in pencil. $1,250.
In this state, according to Schneiderman (p. 273):"With additional etched work: an extra balk of timber has been added to the balk in the right foreground (the tip of which is approx. 135 mm. from the right plate mark and 35 mm. from the bottom); the barges made darker, and there are drypoint touches in the water in front of the stern. The extreme left line of the hoist of the wrecking barge is complete. The faint lines in the area of the sail of the passing ship just to the right of the mizzenmast of the Agamemnon have also disappeared."

Early in 1870, P.G. Hamerton had approached F.S.Haden to etch a plate for his newly-founded art magazine, The Portfolio. Haden chose selected the Agamemnon was the last surviving wooden-hulled battle ship in the British navy. It is being dismantled, moored to a buoy in the Thames opposite Greenwich. According to contemporary accounts, the etching both a critical and commercial success. Haden himself did a second version in mezzotint and Frank Brangwyn found at least three other ships whose "breakings-up" he commemorated in etchings.
The etching, one of Haden's largest, was too large to publish in The Portfolio. Subsequently the plate was proved by Haden and printed by the foremost plate printer of the day, Frederick Goulding, and was issued by the artist himself through Colnaghi's – with immense success. Keppel claimed that the print sold 10,000 copies, though around 500 seems more likely. Breaking up of the Agamemnon, o 1 is considered by the single most important subject of Sir Francis Seymour Haden's career,

To order, to report broken links or to be placed on the email list, contact Jane Allinson (jane@allinsongallery.com) or send a fax to (860) 429 2825).