!-Henri Guérard. 1846-1897-->

Henri Guérard. 1846-1897
after
James Abbott McNeill Whistler 1834- 1903.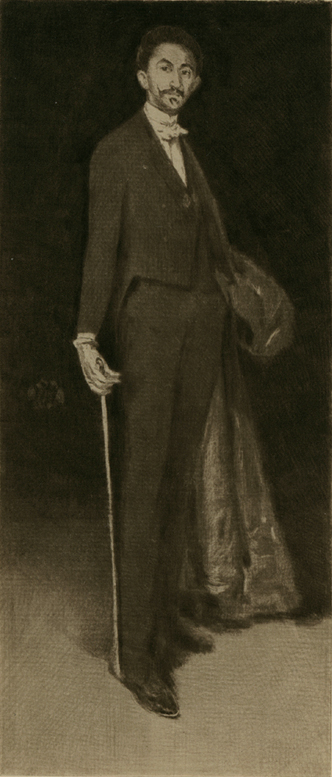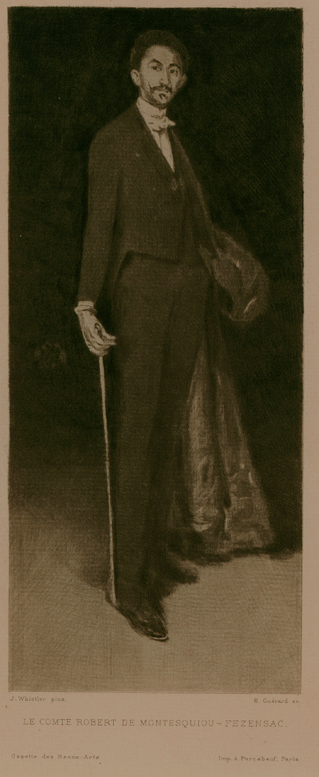 Le Comte Robert de Montesquiou-Fezensac. c. 1894. Etching with drypoint and roulette. 9 1/8 x 4 1/4 (10 1/2 x 7 1/8). As published in the Gazette des Beaux-Arts in 1903. A fine impression printed by Porcabeuf on cream laid paper. Signed in the plate. $175.

The Symbolist poet Robert de Montesquiou-Fezensac inspired Huysmans' À Rebours, and the character of Baron de Charlus in Proust's Remembrance of Things Past. Montesquiou and Whistler met in 1885 and had a nine-year friendshop. Whistler's portrait, Arrangement in Black and Gold: Comte Robert de Montesquiou is a masterpiece of Whistler's unique symbolist-inspired style. The portrait by Whistler now hangs in the Frick Collection in Manhattan. Edgar Munhall has written a fascinating book about the relationship, Whistler & Montesquiou: The Butterfly and the Bat.
Guérard also made a larger drypoint of the image as well as a Montesquiou image of bats flying in moonlight .

To order, to report broken links or to be placed on the mailing list, please contact Jane Allinson. (jane@allinsongallery.com) or fax (860) 429-2825.