!-Arthur Briscoe. 1873-1943-->

.

Arthur John Trevor Briscoe, R.E. 1873-1943.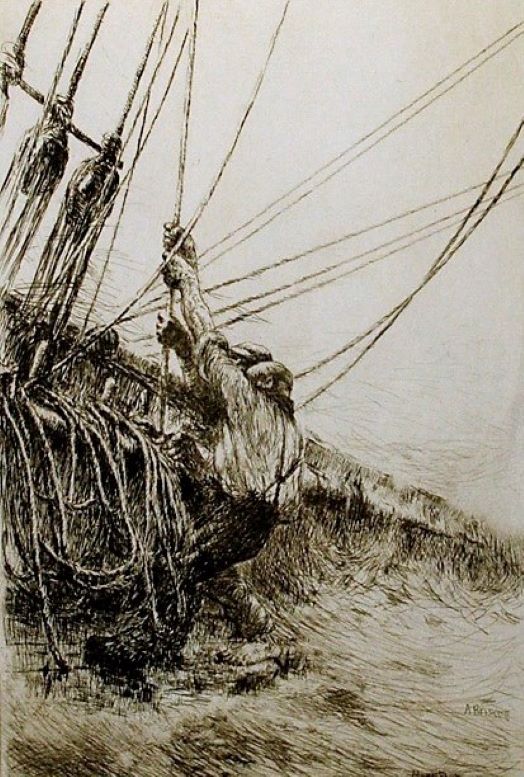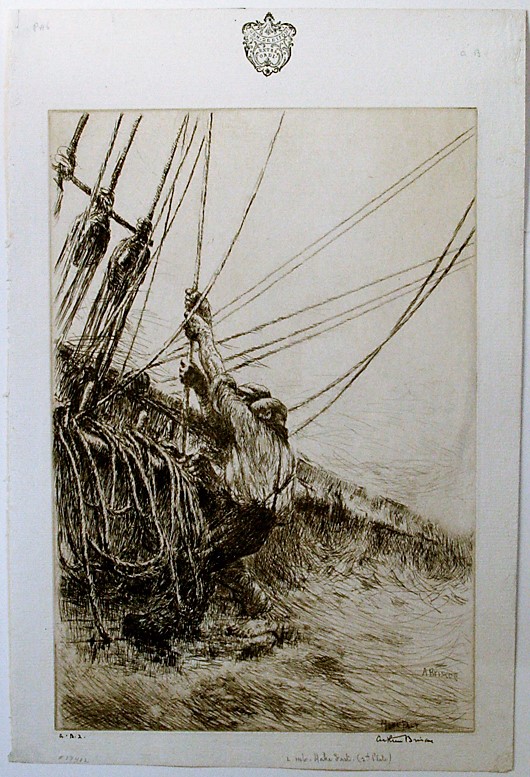 Make Fast, plate 2. 1929. Etching. Laver 146; Hurst 258. 14 3/8 x 9 13/16 (sheet 17 5/8 x 11 3/4). Trial proof 2, before the edition or 75. Illustrated: Print Collector's Quarterly 25 (1938): 300. Printed on 'Gen Dedijon extra ordi[nary].' watermarked cream laid paper. Signed and annotated 'A.B. 2' in ink. It is extremely rare to find early Briscoe proofs. $1,750.
Hurst writes: "...the ship is merely the medium for the hauling men....It is a day with a very big sea running and the ship is dipping right down at this moment, with all the sensation of a big comber sweeping past. Again, there is water on deck and we find ourselves with a crew which forswears oilskins! It makes no odds. The action is the picture." (plate 222).


To order, to report broken links or to be placed on the email list, please contact Jane Allinson (jane@allinsongallery.com), call (001) 860 429 2322 or fax (001) 860 429 2825. Business hours are 9:A.M. to 5 P.M. Eastern Standard Time.
Please click here to review the USE AND ACCEPTANCE AND PRIVACY POLICIES FOR THE ALLINSON GALLERY, INC. WEBSITE
Thank you for visiting this website.