!-Paul ALbert Besnard. 1863-1951-->


Paul Albert Besnard. 1849-1934.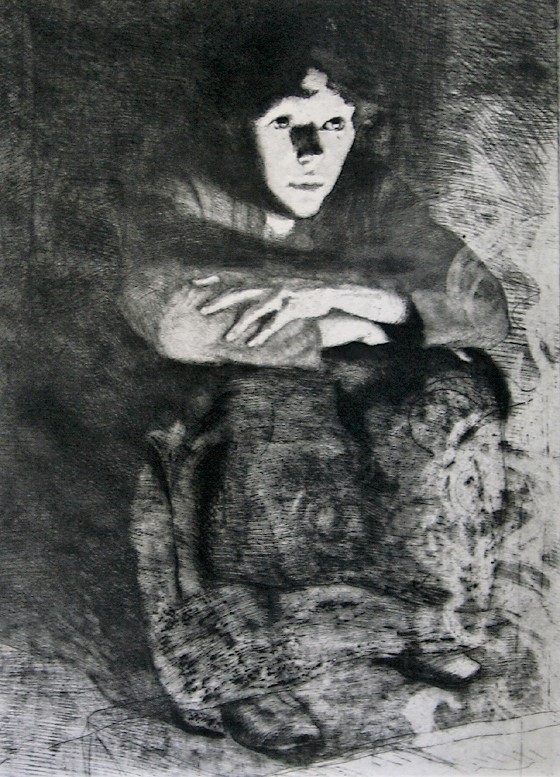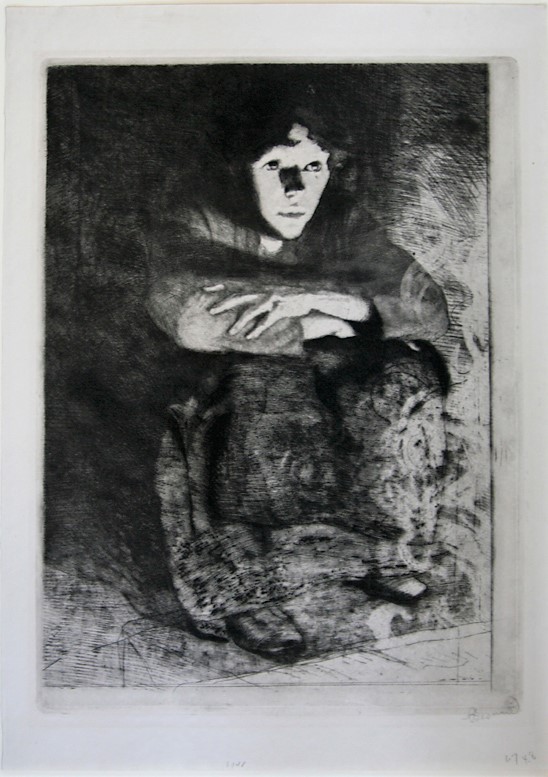 Dans les Cendres (In the embers). 1887. Delteil 67.iii. State after the plate was cut down and a second figure eliminated (the two earlier states are of the greatest rarity). Etching, drypoint and roulette. 16 3/4 x 12 1/8 (sheet 19 1/2 x 14). Edition 50. Illustrated: Print Collector's Quarterly 9 (1921): 254. A very rich impression with plate tone and drypoint burr, printed on simili-japon. Provenance: Frederick Keppel & Co. This is one of the artist's most striking images. Signed in pencil. $1,250.

Coppier praises, "... the magnificent effort dedicated to Rodin 'Dans les Cendres,' of which the equivalent can be found nowhere in all the enormous production of the great past of etching."
Albert Besnard, born on June 2, 1849 in Paris as Paul Albert Besnard, was an impressionist painter. In 1866, the seventeen-year-old son of artist parents began his studies at the École des Beaux-Arts Paris. In 1874, Besnard won the important Prix de Rome, with which the academy distinguished young talent. A portion of the scholarship is a stay of several years in Rome. Besnard married Charlotte Dubray, a sculptress, during this time in Rome. The couple lived in England, where Besnard exhibited at the Royal Academy London, between 1881 and 1884. He became involved with English portrait painting during this period, which had a lasting influence on his work.
In the years that followed, Besnard broke with the academic tradition. In 1886, he presented the portrait of Madame Roger Jourdain at the Paris Salon, which showed his new characteristic style: Inspired by the contemporary group of impressionists of this time, Besnard attempted to capture light and color in his works. However, the artist was not an impressionist in the actual sense; he adopted the technique for the precise analysis of lighting, but did not entirely share in the impressionist interest in the realistic reproduction of impressions.
Besnard was a master of his trade and had a good command of painting in watercolors, pastels, and oil, as well as etching. He found his motifs both in portrait painting and in landscape painting. Besnard also decorated numerous Parisian buildings, including the ceiling of the Comédie Française and the dome of the Petit Palais.
In 1913, Besnard was appointed to be the director of Villa Medici in Rome; in 1922, he became the director of the Ecole des Beaux-Arts. In 1924, he became the first painter since 1760 to be elected as a member of the Académie Française, one of the oldest and most prestigious institutions of the French intellectual world.

To order or to be placed on the email list, please contact Jane Allinson (jane@allinsongallery.com).