!-Arthur Briscoe. 1873-1943-->

.

William Lionel Wyllie, R.A., R.I., R.E. 1851-1931.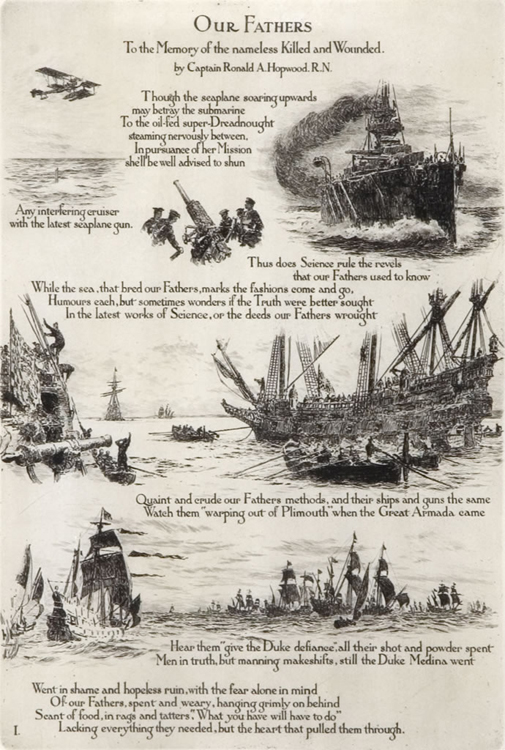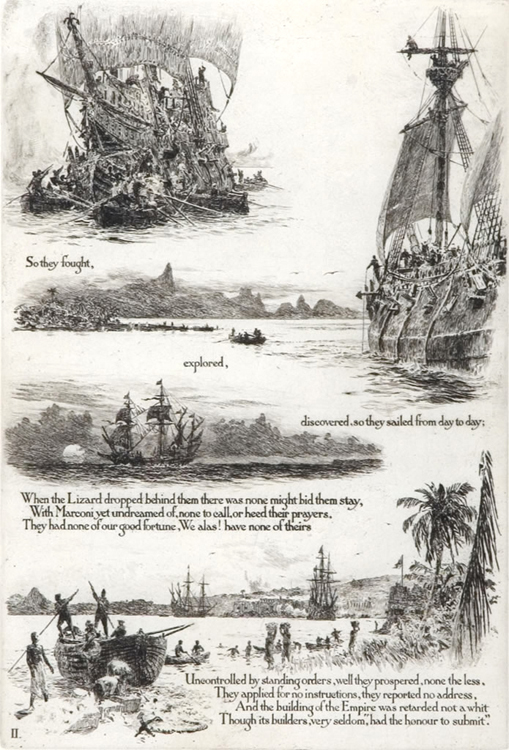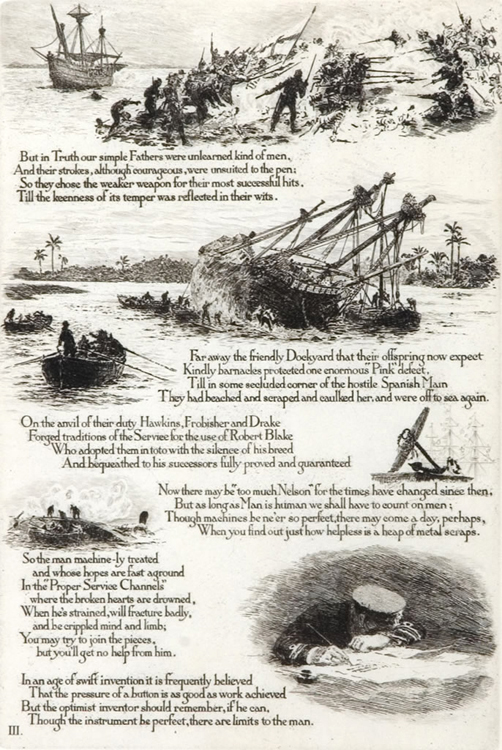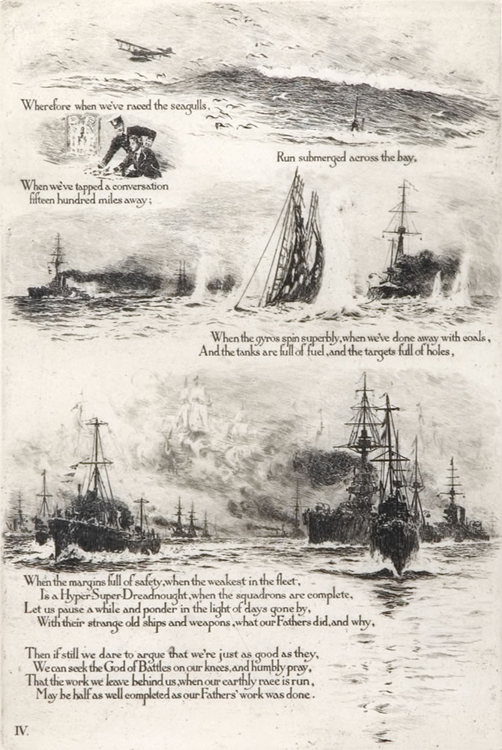 Our Fathers, To The Memory of the nameless Killed and Wounded. 1913. Set of 4 etchings. Each 12 1/4 x 8 1/4. Poem by Captain Ronald A. Hopwood. R.N. Each etching in fine condition, on the full sheet of cream wove paper. Each signed in pencil lower left. $1,250 the set.

After the Battle of Jutland when the press was critical of Britannia's apparent failure to pull off a clear victory, the Times of London published a poem by Captain Hopwood, R.N. entitled "The Old Way". Within this was a further poem, "Our Fathers" which was written during the naval manoeuvres of 1913 and which first appeared in the Journal, The Naval & Military Record, in 1913. Wyllie, we are told, was much taken with the verses and he arranged to illustrate them with the agreement of their author. Thus was produced a set of 4 etchings tracing man's endeavours at sea from the time of the Armada until the day of the coming of the Hyper-Super Dreadnought. Everything was illustrated in his incomparably skilful way - from galleons to seaplanes, fierce battles between ships of the line in Nelsonic times to dreadnoughts being spied upon by submarine periscope: all are used to illustrate Captain Hopwood's verse.

William Lionel Wyllie was born in London on 5 July 1851. He studied art at Heatherley's (1865) and at the Royal Academy Schools (1866-69), where he won the Turner Medal in his final year. He also made a study of the history of shipbuilding to help him with his paintings. He was influenced by Henry Moore (1831-1905), Whistler and Turner, of whom he later wrote a study (1905).
Wyllie worked as a marine illustrator for the Graphic between 1870 and 1890, and from 1883 produced etchings for Robert Dunthorne of the Rembrandt Gallery. In 1884, he published Tidal Thames, the first of a number of books that he both wrote and illustrated. He became Marine Painter to the Royal Yacht Squadron and the Royal Victoria Yacht Club, and did much work, including posters, for the Orient Company, the White Star Line and the Union Castle Line. Often sailing in the barge Ladybird and in yachts, he made painting trips to Holland and Northern France. In 1917 he painted an aerial view of the Battle of Bourlon Wood, for which Air Marshal Trenchard sent maps and aerial photographs. Between 1924 and 1930 he worked on a Panorama of Trafalgar for the Victory Museum, Portsmouth.


To order, to report broken links or to be placed on the email list, please contact Jane Allinson (jane@allinsongallery.com), call (001) 860 429 2322 or fax (001) 860 429 2825. Business hours are 9:A.M. to 5 P.M. Eastern Standard Time.
Please click here to review the USE AND ACCEPTANCE AND PRIVACY POLICIES FOR THE ALLINSON GALLERY, INC. WEBSITE
Thank you for visiting this website.