!-William Walcot. 1874-1943-->


William Walcot, R.E. 1874-1943.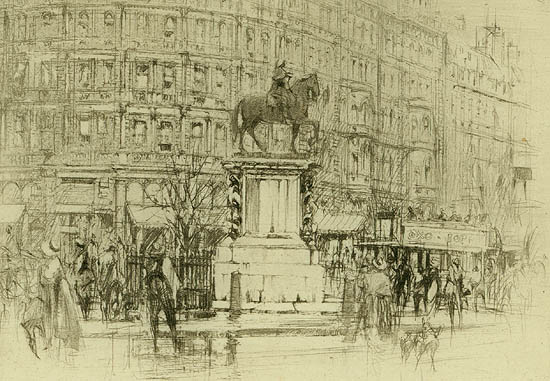 Charing Cross -- The Statue of Charles I. 1919. Etching with aquatint and drypoint. 3 5/8 x 4 7/8 (sheet 9 1/8 x 11 3/8). A fine proof with tonal wiping, printed on cream wove paper. Signed in pencil. $750.
Charing Cross is located at the junction of the Strand, Whitehall and Cockspur Street in Central London, England. The name originates from the Eleanor cross put there by King Edward I as a memorial to his wife, Eleanor of Castile at the former hamlet of Charing. Since 1675 the site of the cross has been occupied by a statue of King Charles I mounted on a horse. The pedestal is thought to be designed by Wren and carved by Grinling Gibbons.

To order, for more information or to be placed on the email list, contact Jane Allinson (jane@allinsongallery.com).