Henri de Toulouse-Lautrec. 1864-1901.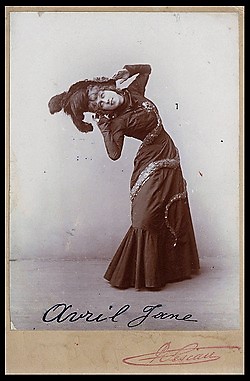 alt="" title="" />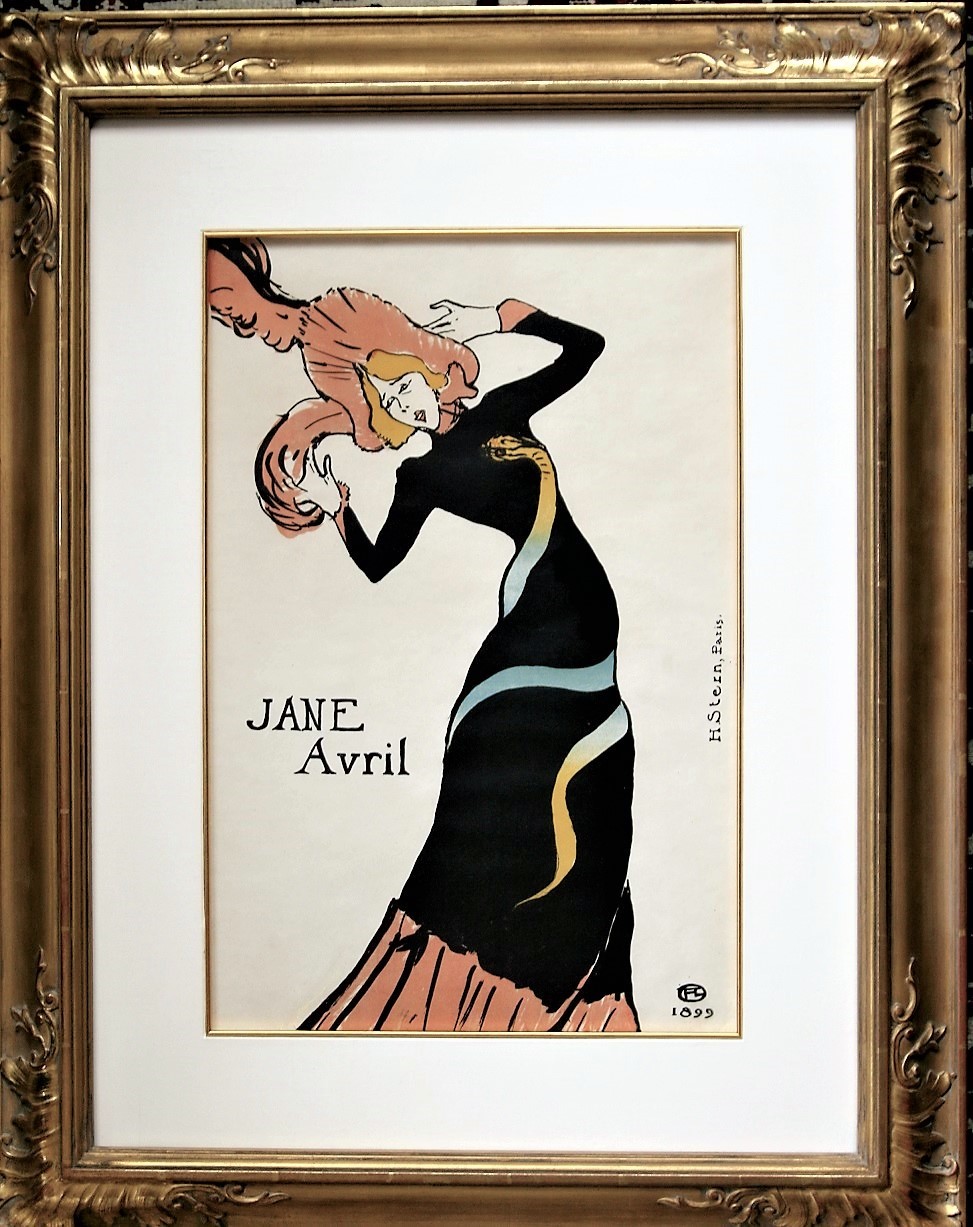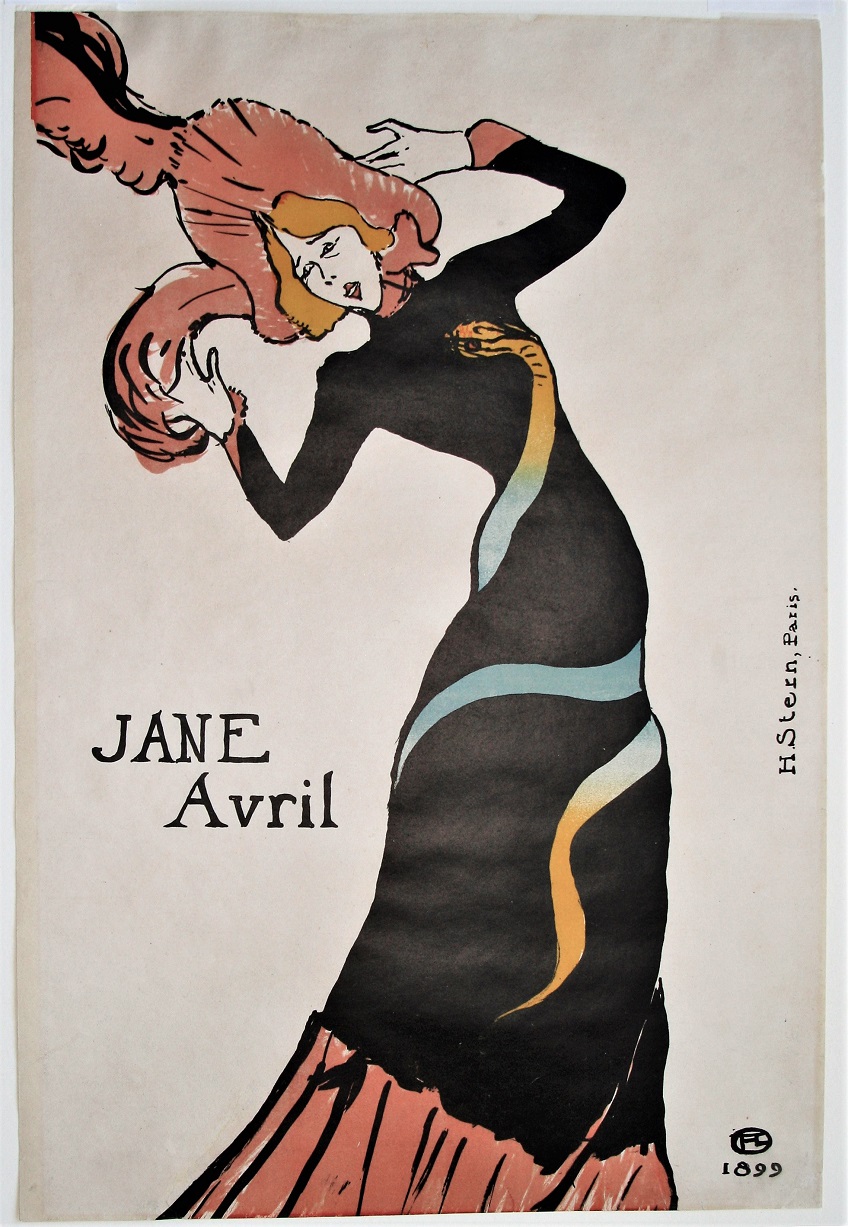 Jane Avril. 1899. Brush lithograph printed in four colours from three stones. Delteil 367, Adhémar 323, Adriani 354.iii, Wittrock P29 B. 22 x 14 7/8 (image and sheet). Provenance: Far Gallery, New York; estate of Anna Eleanor Roosevelt (née Braman) Grasso, Essex, Connecticut. Mounted on archival Green's lens tissue. The red is attenuated; the other colors are bright. A three-inch professionally-repaired diagonal tear just to the left of the skirt; the lower right-hand corner repaired. With name of the printer, 'H. Stern, Paris'. Titled, dated and monogrammed in the stone. Housed in a silk mat with a gold liner and an elegant 34 x 27 4-inch Art Nouveau style gold leaf frame. Price upon request.

Jane Avril travelled in a circle of artists and writers. Henri de Toulouse-Lautrec was captivated by her, and created several images of the young dancer, who commissioned this lithograph. It was never published in a large edition; hence it is described as 'uncommon'
One of the landmark works of the Art Nouveau period, this 1899 lithograph of Jane Avril is the second-to-last poster Toulouse-Lautrec would ever design. It was a fitting, poetic coda for the artist. Avril and Lautrec's friendship blossomed with their careers. Beautiful but shy, elegant but melancholic, Avril was the opposite of La Goulue, her boisterous rival at the Moulin-Rouge. But with several superb early posters, Lautrec elevated her fame such that Avril replaced La Goulue as the star of the show in 1895. In the early months of 1899, Toulouse-Lautrec had a nervous breakdown and was confined to a sanatorium. Out of friendship, Avril commissioned this work from him. Working from a photograph as an aide-mémoire, Lautrec "distilled the very essence of Avril, where the serpentine nature of her dancing is emphasized by her swaying body. . .and the wrap-around snake motif. . ." (National Gallery of Australia). "She liked the poster very much, but her impresario refused it, and it was never shown" (Abdy, pp. 80-81). For this poster, Lautrec used an innovative process which required only three printings for the four colors used (Adriani, p. 411).

Jane Avril (1868-1943) was born Jeanne Beaudon in Paris. Her mother, a courtesan known as La Belle Elise, was abandoned by father of her child, the Marchese Luigi de Font, an Italian aristocrat. Janes' alcholic mother beat her and had her committed to the Pitié-Salpêtrière Hospital. Under the care of Dr. Jean-Martin Charcot, the expert on "female hysterics" she calmed down, and at a social dance for employees of the hospital the girl put on a dancing exhibition that captivated everyone. At aged sixteen, the girl was released from the asylum.
Working at whatever day jobs were available, at night she pursued a career in dancing by performing at local clubs. In 1888, she met the writer René Boylesve (1867–1926) who is said to have become quite taken by the beautiful but shy young girl. Using the stage name Jane Avril, she built a reputation that eventually allowed her to make a living as a full time dancer. Hired by the Moulin Rouge nightclub in 1889, within a few years she headlined at the Jardin de Paris, one of the major café-concerts on the Champs-Élysées. To advertise the extravaganza, Henri de Toulouse-Lautrec painted her portrait on a poster that elevated her stature in the entertainment world even further. The popularity of the Cancan became such that Jane Avril travelled with a dance troupe to perform in London.
In 1895, the owners of the Moulin Rouge offered her a great deal of money to take on the risky task of replacing Louise Weber, the most famous dancer in Paris, known by her stage name as "La Goulue". Graceful, soft-spoken, and melancholic, Jane Avril gave a very different dance presentation than that of La Goulue. Jane Avril became one of the notable members of Parisian nightlife.

To order, to report broken links or to be placed on the email list, please contact Jane Allinson (jane@allinsongallery.com), call (001) 860 429 2322 or fax (001) 860 429 2825. Business hours are 9:A.M. to 5 P.M. Eastern Standard Time.