Jacques James Joseph Tissot. 1836-1902.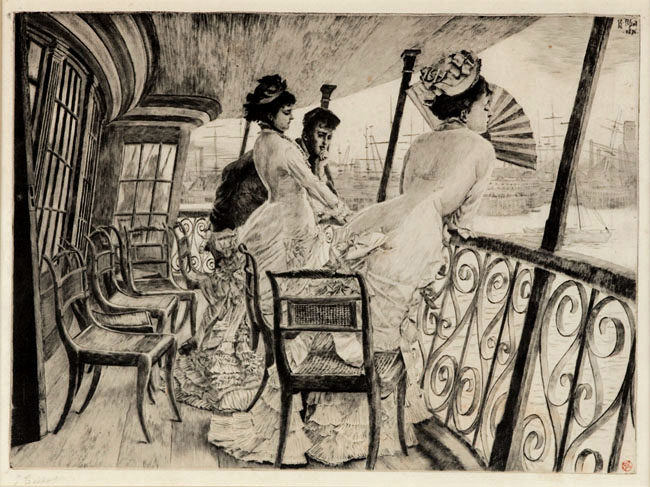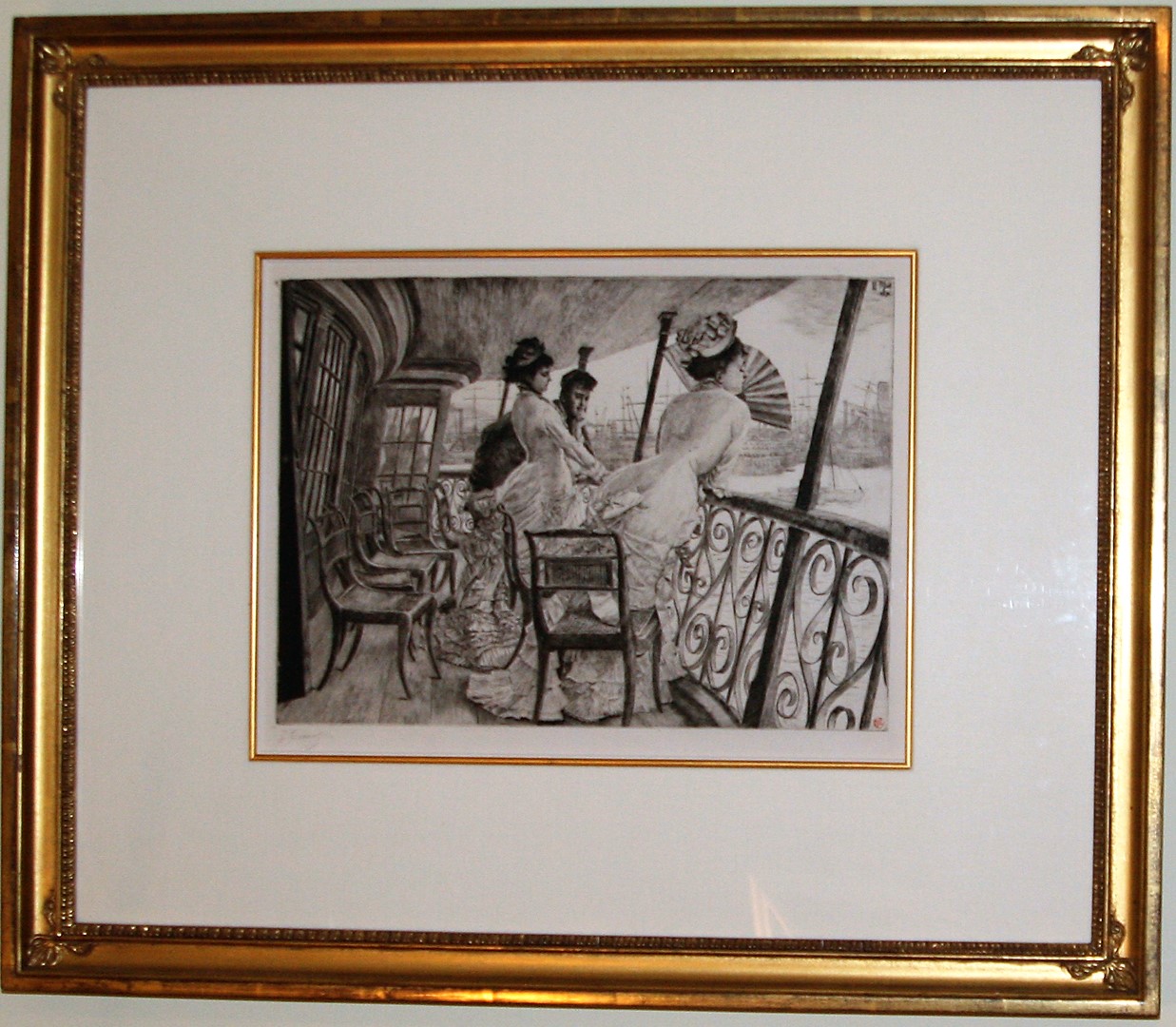 La Galerie du 'Calcutta' (Souvenir d'un Bal à Bord). (The Gallery of H.M.S. Calcutta - Souvenir of a Ball on Shipboard). 1898. Drypoint. Tissot 18, Béraldi 18, Wentworth 25. 10 3/8 x 14 1/4 (sheet 14 5/8 x 19). Edition of 25 in Ten Etchings and 25 separate plates; total edition 50. A rich impression with drypoint burr printed on cream laid paper. Signed in pencil, lower left, and with the artist's red stamp (Lugt 1545) in the image lower right. Housed in a silk mat in a 22 1/2 x 25 1/2-inch gold leaf frame. $35,000.

Wentworth describes this work as a social conversation' picture and sees the composition as a '...comedy of manners, set effectively against an unseen crowd..... The composition, too, is among Tissot's more remarkable achievements, reiterating the psychological states of the protagonists as it subtly heightens them. The deliberate thrust and imbalance, well learned from Japan, pointed up by the watery reflections and the hypnotic repetition of the Trafalgar chairs, an iconographic reference of decided wit, comment with a blank lack of emphasis on the imbalance and psychological opacity of the figures themselves,with their listless sensuality as heavy asthe overcast sky' (page 118).
Marshall and Warner write, in James Tissot. Victorian Life/Modern Love "Although the delicately rendered reflection in the background pairs the the man with this woman, he looks intently at the other as she covers her cheek with a fan. To those familiar with the Victorian 'language of the fan,' covering the left ear with an open fan meant 'do not betray our secret.' Whether or not Tissot intended that meaning here, he was certainly intrigued by the infinite number of uses for this decorative accessory. The possible readings of the characters' relationships become yet more complex when we notice that the young sailor has a ring on his wedding finger."


To order, to report broken links or to be placed on the email list, please contact Jane Allinson (jane@allinsongallery.com), call (001) 860 429 2322 or fax (001) 860 429 2825. Business hours are 9:A.M. to 5 P.M. Eastern Standard Time.
Please click here to review the USE AND ACCEPTANCE AND PRIVACY POLICIES FOR THE ALLINSON GALLERY, INC. WEBSITE
Thank you for visiting this website.