!-James McBey. 1883-1959-->


James McBey. 1883-1959.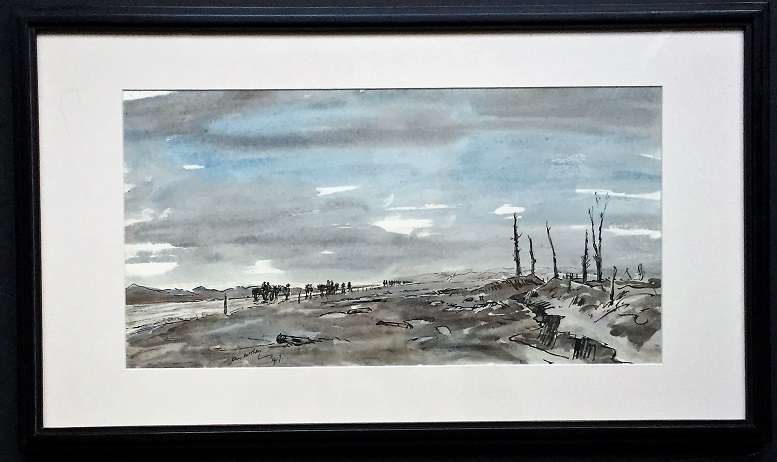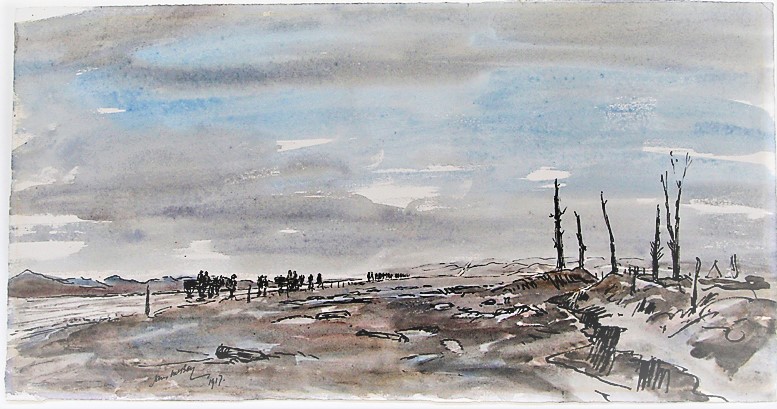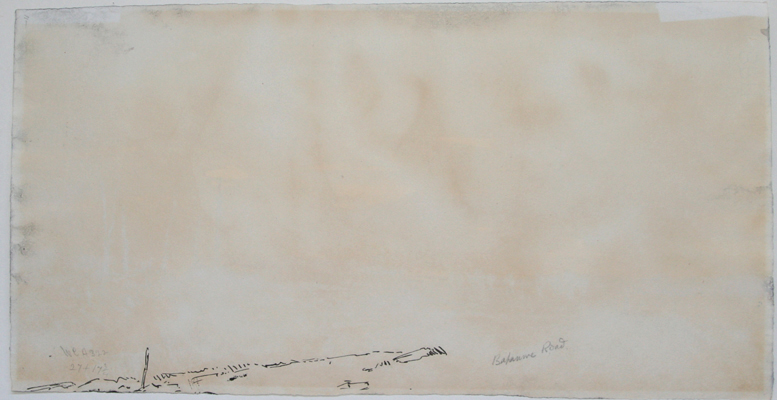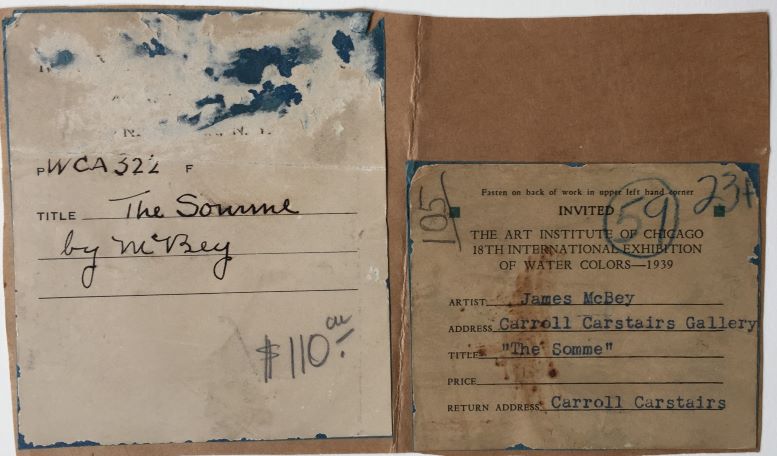 The Somme. 1917. Watercolor. 9 1/2 in x 18 3/4. Provenance: Carol Carstairs Gallery; Collection of Victor Spark, New York. Exhibited: The 18th International Exhibition of Water Colors, The Art Institute of Chicago, 1939. Annotated verso, 'Bapaume Road'. Signed and dated, lower left. Housed in an archival mat and a 15 1/2 x 26-inch black wood frame. $3,500.

In 1916 James McBey was appointed an Official War Artist for Britain. He was first stationed in France at Boulogne and Rouen. In the Spring of 1917 McBey was at the Somme Front, a focal point for some of the most disastrous battles of the First World War. It was here that he created two of his masterpieces; Spring 1917 and Francais Inconnus. Concentrating not upon the actual conflicts but upon their devastating aftermaths, McBey delivered his poignant statement through the blasted landscape and the exhaustion of the surviving soldiers. The tragedy of Francais Inconnus is further conveyed by its title -- translated into English as, "The Unknown French". Rough wooden crosses behind barbed wire mark their graves. Bapaume and its surrounding area were badly destroyed during WW1.

On August 28th 1914 the Germans occupied the town.
On July 1st 1916 Bapaume was an objective for the British troops who went over the top at 07.30 am at the start of The Battle of the Somme, hoping to be in Bapaume in time for breakfast.
In August 1916 the fighting between British/Commonwealth and German troops was furious and the Germans start to build a line of defence to the rear of their lines, 25kms from the front. This was known as the Hindenburg Line. In February 1917 the Germans withdrew to this line and there was terrible fighting east of Bapaume involving Australian troops.
On March 17th 1917 Bapaume was liberated by Australian soldiers.
The Germans seized the town again in the Spring Offensive of 1918. Bapaume was finally liberated for good by New Zealand soldiers on August 29th 1918.

For a link to the Somme battles, please click on: The Great War.

To order, to report broken links or to be placed on the email list, please contact Jane Allinson (jane@allinsongallery.com), call (001) 860 429 2322 or fax (001) 860 429 2825. Business hours are 9:A.M. to 5 P.M. Eastern Standard Time.
Please click here to review the USE AND ACCEPTANCE AND PRIVACY POLICIES FOR THE ALLINSON GALLERY, INC. WEBSITE
Thank you for visiting this website.