!-David Young Cameron 1865-1945-->


Sir David Young Cameron, R.A., R.S.A., R.S.W., R.E. 1865-1945.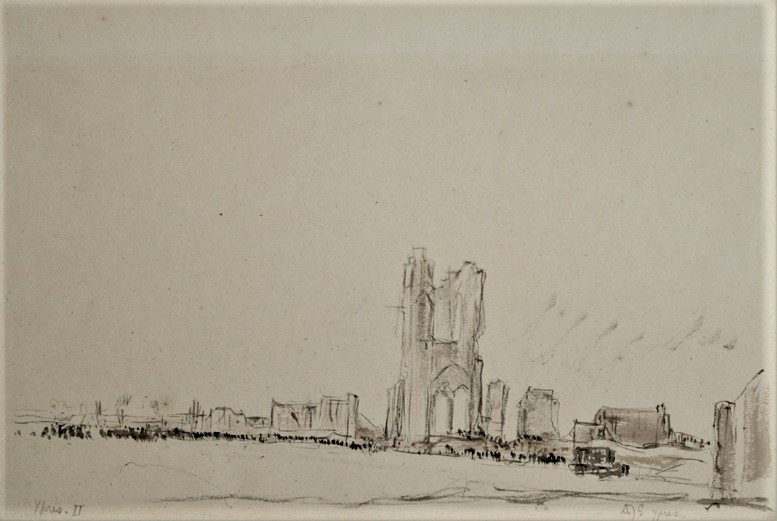 Ypres II [Belgium]. c. 1910-1914. Charcoal and watercolor. 9 x 12 (sheet 9 1/16 x 13 3/4). Signed in pencil. $1,950.
Ypres occupied a strategic position during WW I because it stood in the path of Germany's planned sweep across the rest of Belgium and into France from the north (the Schlieffen Plan). The neutrality of Belgium was guaranteed by Britain; Germany's invasion of Belgium brought the British Empire into the war. The German army surrounded the city on three sides, bombarding it throughout much of the war. To counterattack, British, French and allied forces made costly advances from the Ypres Salient into the German lines on the surrounding hills. In the First Battle of Ypres (31 October to 22 November 1914,the Allies captured the town from the Germans. In the Second Battle of Ypres (22 April to May 25 1915 the Germans used poison gas for the first time on the Western Front (they had used it earlier at the Battle of Bolimov on 3 January 1915 and captured high ground east of the town. The first gas attack occurred against Canadian, British, and French soldiers; including both metropolitan French soldiers as well as Senegalese and Algerian tirailleurs (light infantry) from French Africa.
"Ypres a small Flemish market town, just over the border from France, quite similar to many towns in Belgium, that was until 1914 (the outbreak of the First World War). The town of Ypres was the scene of some of the worst fighting of the war. Ypres was described as being all the horrors of the Somme and the hell of Verdun. The consequences were drastic with 500,000 dead in an area of 25 square kilometers. It was a key site to protect the channel sea ports and associated shipping lanes, and a good point to advance from to seize Ostend and prevent the Germans using this key port to launch U-boat attacks (Third Ypres). Saving the town of Ypres from the Germans was very important to the Belgium people as it represented the last part of Belgium land still under its sovereignty Due to the gallant bravery of saving the town from the Germans in 1914 (First Ypres), against overwhelming odds, the town became of symbol of defiance. "
Information quoted from Simon Farr, Ypres and the Great War.

To order, to report broken links, or to be placed on the email list, call contact Jane Allinson (jane@allinsongallery.com) or fax (860) 429-2825.